Olympian Michelle Griffith-Robinson On How Prediabetes Can Affect Anyone
It's not just about your weight – it's worth knowing the other risk factors for diabetes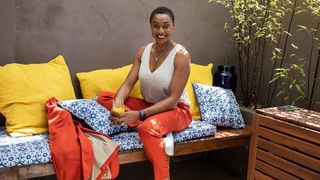 (Image credit: Unknown)
Photograph: Dave Keightley
The biggest risk factor for type 2 diabetes is your bodyweight – but it's certainly not the only risk factor. Even if you keep yourself in great shape, it's vital to consider other things as well.
Michelle Griffith-Robinson represented Great Britain in the triple jump at the 1996 Olympics, and became a personal trainer and life coach after retiring from competition. It should be obvious that she is and always has been very fit – so finding out she was prediabetic came as a shock.
We spoke to Griffith-Robinson, who is an ambassador for Fitbit and Diabetes UK, to find out more about how she discovered she was prediabetic and what she has done to reverse it.
How did you find out you were prediabetic?
In August 2018 I was weeing a lot. I'd just moved house and thought "I'll ignore it" since I'm moving and I'm stressed, and it also coincided with my son having an infection as well. It just seemed like a coincidence that we were going through similar things. I didn't think anything of it.
After a while I thought I should get it checked out. When I walked into the surgery the doctor looked at me and said "we'll do a diabetes check but it's not going be that, we don't have to worry about that", just because I'm still very fit.
I did the pinprick test and it came back as normal, but I was still having these symptoms. I was starting to think about things like bladder cancer – you start thinking the worst. I had a bladder scan and all the "scopes" you can think of to check me, and it came back that I was prediabetic. I was dumbfounded, but that was the better of the evils.
How did you react to the diagnosis?
I was absolutely mortified! Me, an Olympian, who keeps fit – prediabetic! That's crazy, but that's what it was. If I'd left it my levels would have made me type 2 diabetic and I'd have needed medication.
What other risk factors should people consider alongside weight?
Genetics is one, so know your family history – explore it. I never thought about it until it was there in black and white – my mother, my grandmother, my first cousins all have type 2 diabetes. Being black is also a big thing, it's an illness a lot of black people do have, along with high blood pressure.
It's about letting go of the stereotype [of diabetic people] and looking into your family history and considering if genetically you're more prone to getting these things.
What symptoms can you look out for?
Being thirsty a lot is a key thing. The two things I noticed were peeing a lot, which they thought was probably a kidney infection, but also I had a kind of a dead leg feeling. My lower legs felt heavy – something didn't feel right. If in doubt check it out!
Given that you were already fit, what changes did you make after the diagnosis?
I thought, "right I'm going to go and get even fitter!" I made some serious alterations in my diet, and I did increase my training. Change is uncomfortable and it was uncomfortable.
I did three to six months of keto, but I realised it's not sustainable for me. I'll have the odd bit of rice, sweet potato, and there's nothing wrong with that. I'm not an advocate of telling you to cut out carbohydrates, but that's what I felt helped me. Smaller portions were a big change too.
I'd try to keep active, doing at least 10,000 steps a day as well as training. I do maybe three to four sessions a week doing HIIT, circuit work, resistance work, running around the Devon hills.
I gradually reduced my [blood sugar] levels over time so now I'm probably out of the prediabetic zone after three years. I appreciate it's not that easy for everyone to make changes, but I'd urge everyone to know their risk by going on to the Diabetes UK website, finding out about what you can do, and making small, sustainable changes.
See related
What kind of small changes would you recommend?
For example, if you have two slices of toast in the morning, change that to wholemeal and have one slice with an egg on it, or fruit with yogurt. Try not to get stuck and have a fixed mindset. It's difficult, I come from a West Indian family and we love West Indian food, but it's about just monitoring that and cutting back.
You can also use your Fitbit to monitor your steps, check your energy levels and track your sleep. Sleep has a massive impact on your system. I know not everyone can afford a tracker, but more and more people have them. It gives you a measure of whether you're improving or not.
I never used medication and you can reverse type 2 diabetes with healthy lifestyle changes and monitoring your exercise and your intake. I know it sounds neurotic, but one thing I'd say is Monday to Thursday, leave the alcohol out of your diet. It's a simple change people can make.
If you can get off the bus a stop earlier, or walk to the train station, add in some walking. They're simple, small changes that are also cost-effective.
Really it's about long-term change. Get rid of the fads! It's got to be sustainable.
Sign up for workout ideas, training advice, reviews of the latest gear and more.