Dentists Take Aim At The UK's Cake Culture
How to escape the sugary office treats that kill diets dead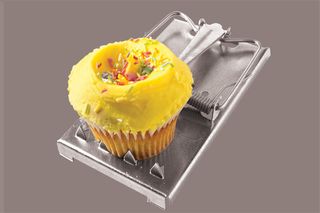 (Image credit: Unknown)
If you're reading this at work (no doubt taking a hard-earned break from a job well done) then take a moment to look at the space around you, counting all the sugary treats you can see. The number might surprise you.
Biscuits, sweets and birthday cakes are all part of the office cake culture that top dentists have slammed as contributing to the obesity and oral health problems plaguing the UK.
Professor Nigel Hunt, dean of the Faculty of Dental Surgery at the Royal College of Surgeons, has called for a culture change to reduce the harmful effects of sugar at work.
"While these sweet treats might be well meaning, they are also contributing to the current obesity epidemic and poor oral health," said Prof Hunt, who will almost certainly be handing out packets of mixed nuts on his birthday.
RECOMMENDED: Low-Calorie Snacks
The faculty has recognised that going cold turkey on workplace cake is no easy task, so they've also provided some tips for reducing your office sugar intake.
On the simple end of the scale are tips like reducing portion size and opting for low-sugar snacks, or indeed avoiding snacking entirely and limiting sugar to lunchtimes. Those with serious sugar problems should consider keeping a "sugar schedule" to keep track of their intake.
It's also worth noting where your treats are in the office. If they're within easy reach it's going to be harder to steer clear, so tuck them in a kitchen cupboard. Research published in the journal Psychology Health found that people seated 70cm and 140cm away from a bowl of snacks ate significantly less than those who were sat within arm's reach at just 20cm away. Distance is key.
RECOMMENDED: Sugar Addiction And How To Snack Smarter
How To Snack Smarter
For advice on savvy snacking, we asked three fitness experts for their tried-and-tested healthy-snack strategies.
Eat some antioxidant-rich dark chocolate when you get a sweet-tooth craving to satisfy it fast, says trainer Tom Wright
"When I am dieting I always carry a couple of squares of dark chocolate in case I get the urge for something sweet. It's sweet enough to curb the cravings but the bitterness stops me wanting more. Dark chocolate rice cakes also work because they've got a crunch, which is something you tend to miss when eating healthily."
Stay strong and stick to your healthy-eating plan because the short-term high isn't worth it, says trainer David Arnot (evolve353.com)
"Unhealthy food is desirable because of the way it makes you feel so try not to attribute feelings to it, especially if you are on a restrictive diet. It's just food. But even if you can't ditch those feelings, eating 'bad' food will feel good only for a second until the guilt hits. Be strong and don't let a doughnut beat you!"
Planning your meals in advance is the best way to stay on top of your snacking, says Andrew Tracey, founder of The Nomad Way
"I plan my meals in advance but leave around a quarter of my daily calories from carbs and/or fats unaccounted to give me leeway for snacks without affecting my overall daily calorie intake. This gives me freedom so nothing is 'restricted' and I find it easier to make better choices. A zero-calorie fizzy drink is a great way to get a sweet fix too."
Sign up for workout ideas, training advice, reviews of the latest gear and more.