Three Low-Calorie Meals To Help You Maintain A Healthy Weight
Make a delicious breakfast, lunch and dinner with these low-calorie recipes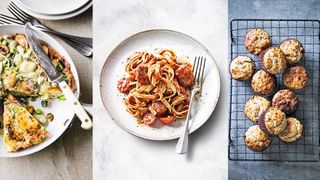 (Image credit: Unknown)
There are a million different diet plans out there and they all have proponents that argue they are the one true path to weight loss, but the fact remains that if you want to lose weight, you need to consume fewer calories than you burn off through your daily activity. Naturally it's important to consider what food makes up your calorie intake because of the varying nutritional values of, say, a carrot and a gummy bear, but your overall calorie tally is still something you should consider.
The recommended daily calorie intakes for UK adults are 2,500 for men and 2,000 for women, which is more than enough to enjoy three square meals and a couple of snacks every day, especially if you use Public Health England's 400-600-600 rule for your main meals. As you will probably have worked out by now, the numbers refer to the rough number of calories you should eat for breakfast, lunch and dinner, which will leave men 900 and women 400 spare for snacks and drinks (never underestimate how many calories drinks can contain).
You can of course go far more in-depth with your calorie counting and use apps like MyFitnessPal to tot up the exact energy contained in everything you eat and drink. But there are clear advantages to keeping it simple, the main one being that you'll be more likely to keep it up in the long term.
Once you start using the 400-600-600 rule you'll quickly get an idea of what that amount of calories looks like on a plate. We also reckon you'll be pleasantly surprised by how much food you get.
To help get you started with the 400-600-600 rule, try eating these three recipes shared with us by Waitrose. There's a breakfast, lunch and dinner recipe, and each comes in well under Public Health England's suggested calorie counts.
Muffins for breakfasts, that's as good as it gets – and an indication of how good it can be on the 400-600-600 plan. In fact, this oatmeal muffin recipe is so low in calories you can have two and only go 20 calories over the recommended breakfast calorie count. And what's 20 calories between friends?
RECOMMENDED: Get The Recipe
This hearty lunch is packed full of veg, racking up two of your five a day per serving, and it also brings a hefty 9.1g of fibre to the table. It's healthy, tasty and ludicrously low in calories, so feel free to serve yourself a slightly bigger slice than the recommended serving size – you'll still be well below the 600 calories Public Health England suggests for lunch.
RECOMMENDED: Get The Recipe
Round off the day with this quick, protein-packed dinner. It only takes 25 minutes to cook and contains almost 28g of protein, along with just over 10g of fibre if you use wholewheat tagliatelle.
RECOMMENDED: Get The Recipe
Recipes and images courtesy of waitrose.com
Sign up for workout ideas, training advice, reviews of the latest gear and more.