You Get Free Video Workouts And PTs Get Paid With Lucozade Sport's Keep Us Moving Campaign
The drink brand's YouTube and Instagram TV channels will be hosting free workouts from Monday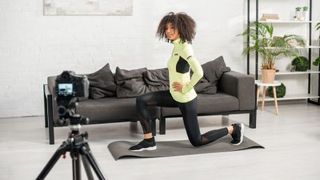 (Image credit: Unknown)
If you've been taking to the internet to find home workout videos during the COVID-19 lockdown then you can look forward to a new source of exercise inspiration from Monday 13th April: Lucozade's YouTube (opens in new tab) and Instagram (opens in new tab) TV channels.
These will be hosting a new 15-minute workout every day, with Lucozade putting out the call for personal trainers, coaches and other fitness instructors to film and submit workouts it can use for this.
While free video workouts are a pound a penny at the moment, we think this project is notable because Lucozade will be paying £1,000 out of an initial £100,000 fund for every workout that's used, which is a great way to support fitness experts who have seen their business evaporate because of the pandemic. Lucozade will not use the workout at all if it doesn't go on its channels, so in that event the trainers can put it on their own channels instead.
It's also great news for those keen to follow the workouts, because it will ensure that a wide range of excellent options are submitted, so you're sure to get a top-notch session every day.
See related
"The global pandemic has created a huge amount of uncertainty in the fitness world, with hundreds of thousands of personal trainers, instructors and coaches losing income as a result of the closure of gyms and leisure centres," says Lucozade Sport's Tom Bell.
"We wanted to show our support for the people that keep our nation active, and we hope our new Keep Us Moving initiative will offer trainers and instructors some welcome support during the crisis, while giving the UK access to a diverse range of free home workouts for a variety of abilities."
If you're a trainer, head to the Lucozade website (opens in new tab) for more information on how you can submit your workouts. Everyone else – keep your eyes peeled for the workouts on Lucozade's social channels from Monday.
Sign up for workout ideas, training advice, reviews of the latest gear and more.