How To Find Out The London Marathon 2017 Results And Your Finishing Time
Get instant access to your all-important race time with the official app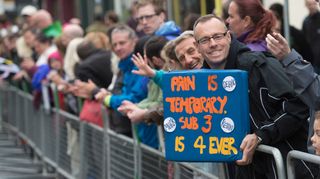 (Image credit: Unknown)
In the days leading up to the London Marathon many runners constantly remind themselves that it's not about the time. The race is a once-in-a-lifetime event to be enjoyed regardless of how fast you're running. Something to simply complete.
In many cases that's simply balderdash and those same runners will be obsessing about their mile splits every step of the way. Even if it's not complete hogwash, there's one thing that's true of every runner who crosses the finish line at the London Marathon – they want to know their official finishing time and they want to know it now.
The big clock above the finish line will give some idea of your time, but only if you noted (and can remember) when you actually crossed the start line. Unless you're an elite runner or have exceptionally sharp elbows, there's little chance you'll have actually started your race within seconds of the gun going off. Instead you'll have shuffled forward in the crush and begun your 42.2km anywhere from two to 40 minutes after the official start time.
Your own tracker should give a close account of your time, but really you need the official result before you can start truly celebrating (or crying). Fortunately the London Marathon organisers make it very easy for you to see your results quickly.
The results will be posted on the official website's race results page (opens in new tab) (which is searchable, mercifully) as they become available, but your best bet is to download the official app, available on iTunes (opens in new tab) and Google Play (opens in new tab).
Once you add yourself to the "favourite runners list" – along with any fellow competitors you're keen on tracking – you'll get not only your official finish time as fast as possible, but also a breakdown of your splits at each 5K point and the halfway mark.
Friends and family who have come along to support you can also use the app to track your progress so they know when to head for the finish line to meet you.
The app uses the personal timing tag attached to your shoe. This means it will give your chip time rather than your gun time, which is important as the latter doesn't take into account the delay at the start. It's chip time you want and the app is the best way to get it.
Sign up for workout ideas, training advice, reviews of the latest gear and more.