Callum Hawkins On Why You Should Race A Half Marathon Before Tackling A Full Marathon
Team GB distance runner Callum Hawkin's marathon advice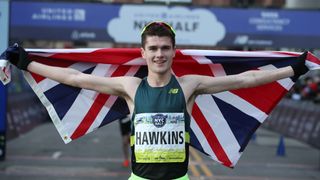 (Image credit: Victah Sailer)
Once people know that you are running a marathon, you start to receive all manner of unsolicited advice. Almost all of it is well-intentioned and no doubt there is much to learn from friends and family who have run marathons themselves, but you might also feel that you can disregard a good chunk of what they say. They're not experts, after all.
In contrast, when Team GB marathon runner and New Balance ambassador Callum Hawkins dishes out some advice for amateurs, it's wise to take heed. Why? Well, for one Hawkins finished fourth at the 2017 World Championships in London to equal the best-ever performance by a British runner at the event. Better than your uncle's seven-hour PB anyhow.
Coach spoke to Hawkins about the benefits of scheduling in a shorter race before a full marathon, as well as his stellar 2017 and targets for 2018.
Do you have target races each year? What kind of racing do you do in the build-up to those?
I always try to have two or three target races in the year. The races building up to them depends on what the target is, but for a marathon I've found that doing at least a half marathon six weeks out seems to be what works for me. But if I can fit it in with my training I usually try to do as much racing as possible, because racing and training are two different things. You can train all you want but when you're racing you're at your limit. You try to get used to that – training your body to hurt.
RECOMMENDED: Got A London Marathon Ballot Spot? Here's What You Should Do Before January
So amateur athletes tackling a marathon should race a half marathon six weeks before the main race?
Yeah – although sometimes it's not easy to find something six weeks out, so you have to do what you can do. It's usually quite good for confidence and you can see where your fitness is. It also helps you plan how you're going to race the actual marathon.
RECOMMENDED: The Best UK Half Marathons For 2018
Do you have any other advice for people tackling their first marathon in 2018?
Start training as early as possible, and make sure your training is consistent. It's better to do lots of medium stuff, rather than one big run and then not be able to do anything the next day. Also build up gradually – you don't want to go all in and hurt yourself. Listen to your body. It's better to take a day off than be forced to take a week off.
RECOMMENDED: How to Train for a Marathon: 14-Week Marathon Training Plans For Everyone
What's your favourite place to run in the UK?
I'm in a small village just outside Glasgow and I'm lucky in that I've got huge cycle tracks near me that go for miles – that's where I do all my training. It's something like a half-mile run from my house. I can go for 12 miles and only cross one or two roads which is pretty good.
What was your highlight of 2017?
It has got to be finishing fourth at the World Championships in London – and actually just running in London at a major event. It's always incredible and the crowds always get behind you, especially being British.
What's your main target for 2018?
The Commonwealth Games in April, that's my main aim. Going to the Gold Coast and hopefully going for a win or a medal. After that it depends on how well the Commonwealth Games goes and how well I recover. I'm looking at the Europeans after that, but that's going to be pretty tight – they're only 15 weeks apart. It will either be the Europeans or a big city marathon at the end of the year.
Marathons all the way?
Marathons are the main focus. Halfs as a supplement to them – although I do need to get under that hour mark at some point. I can't leave my PB at 60 minutes dead!
It's quite a neat time, isn't it?
Yeah, but 59:59 sounds a lot better!
Sign up for workout ideas, training advice, reviews of the latest gear and more.