Six Common London Marathon Mistakes To Avoid In Race Week
Steer clear of these pitfalls and give yourself the best chance of having a successful race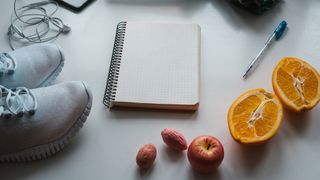 (Image credit: Unknown)
Marathon race week has arrived, and for most runners that's exciting and terrifying in equal measure. The good news for everyone is that the hard work of training is done. You cannot get any fitter at this stage, and all you have to do now is keep yourself ticking over until race day itself, when you will achieve your goal of scoring a new PB or simply getting around the course in one piece.
That is, you will as long as you avoid doing something silly in the last few days before the race. This week is a time to be as sensible as possible – eat smart, avoid too much booze, get to bed early, and generally rest and relax as much as life allows. This is not the week to start redecorating your house or take up the barbell back squat, and hopefully everyone around you will forgive you for doing the bare minimum.
Coach Nick Anderson of Running With Us (opens in new tab) – the official training partner of fitness tracker company Polar (opens in new tab) – is familiar with many of the common pre-race pitfalls that can undermine all that hard work. Here he explains how to avoid them so you can come through the final week unscathed and put in a great performance on the day.
1. Not following your training plan
Don't start questioning if you've trained enough. Keep to your running plan and don't suddenly add an extra hard session, long run or conditioning workout. It's too late to get any fitter. At this point, less can be more – you don't want to start the race tired.
2. Changing your diet
This is one where I see so many mistakes made and races ruined. Giving in to the temptation to try something new or eat a little less because you aren't running as much on race week can be disastrous. Stick to the foods and fuels that have worked for you in training and before hard sessions or key long runs. For example, don't suddenly eat porridge for the first time on the morning of the race. It might work but equally you might find out halfway into the race – in the worst possible way – that it hasn't!
3. Tapering too much
Resting too much on race week will leave you feeling sluggish. Try to run as frequently as normal but reduce the distance, intensity and duration as race day gets near. Resting for days – unless you have to through injury or illness – can leave the body confused and result in your metabolism dropping, leaving you tired. I even recommend an easy 20-minute run the day before the marathon, with a stretch afterwards.
See related
4. Forgetting to plan
It sounds simple but have you looked at the weather forecast and planned your kit for the day? Are your racing shoes packed? How are you getting to the race – can you park or is the train station near to the start? Will your hotel have your normal race day breakfast or have you packed this just in case?
It really is worth taking 20 minutes early in the week and listing all that needs to be done. Tick these off and you are already taking control of your race day experience. It's one less thing to worry about and will reduce stress.
5. Not running your race
You should run at a pace that's familiar to you and that you've practised in training. Be mindful to keep an eye on your own pace, even if somebody is trying to be helpful by telling you that they're heading for the same pace as you and that you should run with them. Take control of your race and speed up gradually to your race pace. Get to halfway feeling good and attack the second half of the race with confidence, rather than feeling tired and hanging on.
6. Being unrealistic
This is probably my hottest tip of all when it comes to racing. Train and race for a time or result that's within your grasp. It might be a new PB or a return to racing form, but keep it achievable.
Sign up for workout ideas, training advice, reviews of the latest gear and more.