How Keeping A Journal Can Help Your Mental Health During The Pandemic
We're told men should talk more, but that can be easier said than done. The man behind MindJournal explains how writing first can help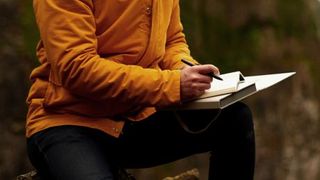 (Image credit: Unknown)
We're told men should talk more, but that can be easier said than done. The man behind MindJournal explains how writing first can help
Opening up to talk about your mental health is not easy for many men. Even those who accept that they need to do something about their mental health can struggle with it, discovering they're unable to find the right words when they do try.
In these situations it's worth considering keeping a journal. This avoids the pressure of a direct conversation and you might well find that if you write things down first, the words come more easily when you talk to someone.
Ollie Aplin is a firm believer that more men should keep a journal and his book MindJournal: This Book Will Make You Stronger aims to make it easier to start, with guided exercises to start you thinking about your mental health.
We spoke to Aplin for more information on the book and the value of keeping a journal, especially during the COVID-19 pandemic, where we're all facing more pressure than usual.
Can you explain the concept of MindJournal?
"MindJournal, as a movement, aims to get guys journaling as a way of approaching day-to-day life in a mindful, positive way. The new book that accompanies this is a guided journal filled with prompts and tasks."
How does journaling help?
"Journaling has helped me a lot over the years. It helped me confront the emotions I was struggling with when my mum decided to take her own life. It allowed me to find the words I needed to use in my therapy sessions.
"Guys think we can't or shouldn't talk about the stuff that we're struggling with. When the coping strategies that you have in place aren't working and cracks start to appear, people say you should go and talk to someone. A lot of guys don't really feel comfortable with talking or don't know the words to express what they're feeling.
"Journaling helped me personally as a training area where I could explore my feelings in private and get them onto paper. If I then want to talk to someone about it I already know what I want to say. That's the real value it has for men in particular. It can act as a tool to help you talk about things and express them more clearly."
How can journaling help during the COVID-19 pandemic?
"For me, journaling is helping me in two major ways: one, staying focused and two, staying grateful. It's very easy in times like these to forget the basics such as eating well, sleeping well and exercising. Journaling helps me set mini-milestones that keep my health in check.
"It's also easy to forget the positives in everyday life. Being able to switch your mindset from negative to positive is a huge skill that I'm always trying to develop – and again, writing down three things I'm grateful for every day helps keep the positive vibes up!"
How is the book different to a normal journal?
"When I first started keeping a journal I struggled with the fact that most journals and notebooks are blank – you're expected to rock up and write. So I created this 30-step programme. The exercises start off quite simple – answering questions like 'What kind of goals do you have in your life?' or 'What do you want from journalling?'
"The exercises get tougher as you get used to writing things down. They cover a wide area of everyday life because I feel like guys don't necessarily look at all the different aspects of their lives. For example, I focus quite heavily on work. I can quite easily and comfortably talk about work and the emotions associated with it, but if you asked me about emotions to do with my personal life or relationships I'd probably be more private.
"You build up confidence so that when you get to the end of the 30 questions you can go out and get a blank journal to continue asking yourself questions."
Is the book about maintaining good mental health, or dealing with problems that might arise?
"This is about mental fitness. You're actively working towards keeping yourself mentally fit and strong. It's preventative as well as a resource for when shit does hit the fan and you need some help or support.
"Workouts help your body, but what are you doing to keep your mind in prime condition? There are things you can be doing to make sure you're more mindful, more positive, calmer and able to cope with situations in a better way.
"Even if you are really struggling, that doesn't make you weak, and talking about it doesn't make you weak. But there are things you can do that will make you feel better and stronger."
See related
What is a good example exercise from the book?
"The one that gets a lot of guys thinking is 'What is your role as a man?' That's one I've had a lot of conversations with different guys about."
Give this exercise from MindJournal a go. Take 30 minutes to think about it and write something down if you like.
What is your role as a man?
How does it feel to be a man?
What is expected of you?
What kind of man would you like to be?
Try not to be too critical of yourself. This is a space for you to reflect on the man you've become and why.
£7.35 Buy now

Sign up for workout ideas, training advice, reviews of the latest gear and more.