Chorizo And Scallop Protein Skewer
Get ripped Spanish-style with this protein-rich meal that takes minutes to make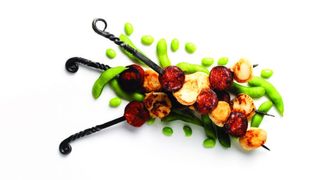 (Image credit: unknown)
Meat and seafood are both high-protein foods that make for an excellent muscle-building combo, but you don't need to cook an entire paella to reap the benefits. Featuring classic Spanish flavours, this dish boasts a monstrous 65g of protein to help you pack on size, and it only takes minutes to prepare. Serving it with edamame beans provides a bonus hit of protein – and filling fibre too.
Chorizo And Scallop Skewer Recipe
696 calories
Ingredients (Serves One)
100g chorizo
150g scallops
70g edamame beans
2tsp olive oil
Method
Split the oil evenly between two pans and heat them both over a medium heat. Fry the chorizo in one pan and the scallops in the other for two to three minutes, turning to ensure they cook on both sides. Skewer the chorizo and scallops and serve with the edamame beans.
Nutrition
To get an approximate nutritional breakdown for this meal, we used Myfitnesspal, one of the best weight-loss apps for calorie counting, to crunch the numbers for us. It contains 696 calories, and provides 65g of protein, 38g of fat, 21g of carbohydrates and 4g of fibre.
Chorizo provides iron, which is needed for growth and development.
Scallops are high in protein, and contain a wide variety of vitamins and minerals, including omega-3 and selenium, which helps with cardiovascular health and thyroid function.
Edamame beans provide iron, calcium and vitamin K, which helps strengthen bones. These little green beans are also high in protein and fibre.
---
More About Nutrition
Sign up for workout ideas, training advice, reviews of the latest gear and more.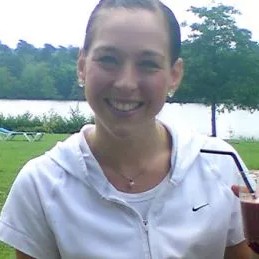 Lucy Miller is an experienced journalist who has worked across a range of health and fitness titles. She was the fitness and nutrition editor at Men's Fitness UK, and has also been fitness editor of both Health & Fitness UK and Women's Fitness UK. Lucy qualified as a NASM-certified personal trainer and nutritionist in 2008.