High-Protein Turkey And Egg Sandwich
Eat this protein-packed sarnie for elevenses and get plenty of fuel to power your lunchtime workout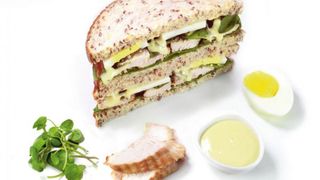 (Image credit: unknown)
This turkey and egg concoction delivers a whopping 67g of protein, and it's brimming with instantly available nutrients and calories. The low-GI carbohydrates in the bread will provide sustainable fuel for your muscles while the turkey, the egg and the seeds in the bread are bursting with high-quality protein that will keep your brain alert and your stomach feeling full. The iron found in the watercress will help fight fatigue, as will the spinach thanks to its vitamin C content, which helps to create healthy red blood cells.
This is not a low calorie snack but it's an ideal meal if you're following a muscle-building training plan. Read more on when to refuel and what to eat after a workout. If you're looking for a post-gym protein hit, head over to our protein shake recipes or try one of these simple protein-rich salad recipes.
High-Protein Turkey And Egg Sandwich Recipe
640 calories
Ingredients (Serves One)
190g turkey breast, grilled
1 large egg
2 slices of soya and linseed bread
1tbsp low-fat spread
Handful of watercress
Handful of spinach
Low-fat creamy salad dressing
Method
Grill the turkey breast until it's cooked all the way through. Meanwhile, boil the egg for 13 minutes before peeling off the shell and allowing it to cool. Take two slices of soya and linseed bread and spread lightly with low-fat spread. Slice the egg and turkey and add it to your sandwich. Finish off with a handful of watercress, spinach and a dollop of low-fat salad dressing.
Nutrition
We used the calculator on Myfitnesspal, one of the best weight-loss apps for calorie counting, to estimate the nutritional values of this sandwich. Each serving contains around 640 calories, with 67g protein, 28g carbs, 27g fat and 10g fibre.
Seeded bread
Soya and linseed bread is low on the glycaemic index (GI), so it will keep you feeling fuller for longer. It also provides slow-release carbs, which means a steady flow of energy to keep you going throughout the day.
Eggs
They're not just the best source of protein around, you know. Eggs also provide sulphur, vitamins A, B, D, E and K and iron, which is necessary for transporting energy to the muscles and keeping your blood healthy.
Watercress
Watercress is full of iron, and it contains plenty of vitamin C to help your body absorb it. You will also find calcium in watercress, which will help prepare your bones for working out.
Turkey
Turkey is a lean, low-calorie way to pack on muscle. It is also bursting with three essential B vitamins, B3, B6 and B12, which help your body to release energy from food and digest protein.
Salad dressing
Low-fat salad dressing not only adds some creaminess to your sarnie but its B vitamins also help to release energy from digested foods.
---
More About Nutrition
Sign up for workout ideas, training advice, reviews of the latest gear and more.
Lucy Miller is an experienced journalist who has worked across a range of health and fitness titles. She was the fitness and nutrition editor at Men's Fitness UK, and has also been fitness editor of both Health & Fitness UK and Women's Fitness UK. Lucy qualified as a NASM-certified personal trainer and nutritionist in 2008.