Bresaola, Peach And Rocket Salad Recipe
Prepare a delicious, high-protein, low-carb salad in minutes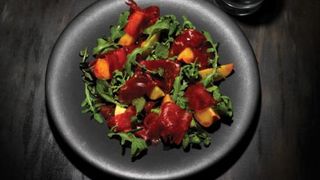 (Image credit: Unknown)
Throwing a salad together is a great option when you're in a hurry, especially if it's full of nutrient-rich ingredients that will supplement your training. One of our time-saving 10-minute meals, this Italian recipe provided by chef Karol Gladki is ideal if you're wondering what to eat after a workout, as with an impressive 50g of protein this salad will help you build and repair your muscles, and avoid the post lunch crash associated with a carb-heavy meal.
If you're looking to include more protein in your diet, here are the best high-protein foods, and if you'd prefer to avoid meat, check out the best vegan protein sources.
Bresaola, Peach And Rocket Salad
550 calories
Ingredients (Serves One)
150g of bresaola
1 peach
A handful of rocket leaves
2 tbsp extra virgin olive oil
1 tbsp sherry vinegar
Salt and black pepper to taste
Method
Cut the peach into pieces. Make the dressing by mixing the olive oil and sherry vinegar, and seasoning with salt and black pepper. Arrange the bresaola and peach on the rocket, and pour over the dressing.
Nutrition
We used Myfitnesspal, one of the best weight-loss apps for calorie counting, to get a rough nutritional breakdown for this salad so you can hit your macro goals.
This salad comes out at 550 calories and provides a whopping 50g of protein, 32g of fat, 16g of carbohydrate and 3g of fibre.
Peach
Provides vitamins A and C, which help reduce the cell damage caused by intense training.
Bresaola
This very lean, tender air-dried beef is high in muscle-building protein and creatine.
Rocket
Contains glucosinolates, which have powerful disease-fighting properties.
---
More About Nutrition
Sign up for workout ideas, training advice, reviews of the latest gear and more.
Lucy Miller is an experienced journalist who has worked across a range of health and fitness titles. She was the fitness and nutrition editor at Men's Fitness UK, and has also been fitness editor of both Health & Fitness UK and Women's Fitness UK. Lucy qualified as a NASM-certified personal trainer and nutritionist in 2008.