Raw Beetroot, Apple, Carrot, Celery, Spirulina and Goji Berry Juice
This nutritious juice recipe from CRUSSH juice bar is packed with antioxidants and immune boosting ingredients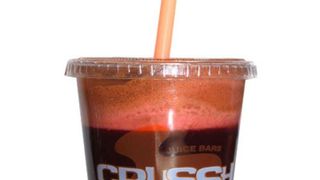 (Image credit: unknown)
Give yourself a boost of vitamins and antioxidants in the form of this delicious raw juice blend recipe from CRUSSH. The earthy flavours of beetroot and celery are combined with the sweetness of carrots, apples and goji berries. A dose of the algae-extract spirulina contains a plethora of nutrients including powerful antioxidants.
Find more tasty ways to drink your fruit and veg with our best smoothie recipes, or if you're looking to refuel post workout, check out our best protein shake recipes. This smoothie recipe can be used as part of a weight loss meal plan for women or a weight loss diet plan for men – just swap it out for a meal of similar calorific value.
Raw Beetroot, Apple, Carrot, Celery, Spirulina and Goji Berry Juice Recipe
553 calories
Ingredients (Serves One)
Half a raw beetroot
One stick of celery
Three large organic apples
Two large organic carrots
Handful of goji berries
1tsp spirulina
Method
Begin by blending the beetroot, celery, apples and carrots until you get a bright pink juice. Then blend a handful of goji berries and your preferred amount of spirulina.
Nutrition
We entered this recipe into Myfitnesspal, one of the best weight-loss apps for calorie counting, to get approximate nutritional values. This juice contains around 553 calories, and provides 138g of carbohydrates, 27g of fibre, 9g of protein and 2g of fat.
Beetroot
Beetroot is packed with lots of vitamins and minerals. It also has liver, spleen, gall bladder and kidney cleansing properties, which help build up the body's natural defence against carcinogens.
Celery
Celery is a good source of potassium as well as flavone apigenin which studies have revealed benefits blood pressure. Full of antioxidants it will help kick-start detoxification in your body.
Apples
Apples are rich in flavonol quercetin, one of the most potent antioxidants known to the world of nutrition.
Carrots
Packed with vitamin A, carrots are great for a healthy immune system, which will help you fire on all cylinders. They're also known to regulate blood-sugar levels.
Goji berries
A great source of carotenoids and minerals, goji berries will fortify your immune system against winter nasties. They taste like a cross between a cranberry and cherry so will add a subtle sweet flavour to your drink.
Spirulina
One of the most concentrated sources of nutrition on earth, this plant extract will help you with energy, endurance and strength. It also helps lower cholesterol thanks to its high levels of protein, vitamin B12 and iron.
---
More About Healthy Eating
Sign up for workout ideas, training advice, reviews of the latest gear and more.
Lucy Miller is an experienced journalist who has worked across a range of health and fitness titles. She was the fitness and nutrition editor at Men's Fitness UK, and has also been fitness editor of both Health & Fitness UK and Women's Fitness UK. Lucy qualified as a NASM-certified personal trainer and nutritionist in 2008.