New Balance's FuelCell Range Has A Shoe For Every Runner
The new FuelCell line aims to satisfy everyone from elite athletes to fashion-focused amateurs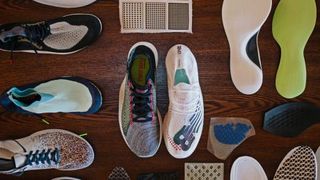 (Image credit: Unknown)
The Zoom Vaporfly 4% has been a huge success for Nike, so it's no surprise that other brands have started inserting carbon fibre plates into their premium shoes to add some extra spring to the ride. Hoka has done it with the Carbon Rocket and, more recently, the Carbon X, and New Balance has now joined the party with the FuelCell 5280.
However, while they both have a full-length carbon plate, the 5280 is nothing like the Vaporfly. The latter is designed to help long-distance racers like Eliud Kipchoge, who set the world marathon record while wearing them, while the 5280 is designed to help New Balance's elite mile racers shine.
That makes the 5280 a niche shoe when it comes to us amateurs, but fortunately the 5280 is not the only new shoe in the FuelCell line. Three others – the Rebel, Propel and Echo – have also been announced. They all use the FuelCell foam, which offers more energy return than any of New Balance's other midsole compounds, but differ in what they offer runners.
To get more info on the four new shoes we spoke to Rebekah Broe, New Balance's global product manager.
New Balance FuelCell 5280
The 5280 is named for the distance it is designed to excel over – 5,280 feet, or one mile – with the carbon fibre plate built into the shoe pairing and the bouncy FuelCell foam to propel you through short races at full speed.
"Our innovation team in Boston spent a ton of time with our fastest athletes trying to find a way to approach the mile that was truly distinct to New Balance," says Broe.
"They calculated that form, traction, weight reduction and material rebound were the key elements, and with the 5280 they aimed to improve in all those areas. It's not aimed at everyone, but it's also not just for a mile. We've had athletes using this for track meets and for 5Ks as well."
So the 5280 is for serious middle-distance runners and not one to pick up for your everyday running – especially as you'll have to pay £200 for the privilege.
New Balance FuelCell Rebel
If you want to go fast but for more than a mile, the Rebel is the FuelCell shoe aimed at you.
"[The Rebel] is still for serious runners but we looked at the 5280 and asked how we could translate these learnings into a lightweight, speedy daily trainer," says Broe. "If you're going out and doing a hard long run, a tempo run or a time trial, how can we give you those same benefits?
"The Rebel is still classified as more for a forefoot striker, for someone moving at a faster rate of speed, but without the carbon fibre plate it's a bit softer underfoot and you're relying on the compound to provide the rebound."
The Rebel will cost £120 and will launch on Global Running Day, 5th June.
See related
New Balance FuelCell Propel
The Rebel is aimed at the everyday runner but it's still a fast, firm shoe, so if you want to try the bouncy FuelCell foam but prefer something softer, the Propel is a better bet.
"The Propel has a full-length FuelCell midsole and it's for anyone who's looking for a high energy return but is less concerned about weight," says Broe. "It's not as pared-down as the Rebel or 5280. Heel strikers can benefit from a shoe like the Propel, whereas with the Rebel you'd probably want to be a forefoot striker."
The Propel is set to launch in August and will cost £100.
New Balance FuelCell Echo
The final shoe in the new line-up is the Echo, which is more fashion-focused than the 5280, Echo and Propel.
"It's still absolutely a performance shoe underfoot but the upper is inspired by some of our heritage racing models," says Broe. "It's a fun way to throw that premium underfoot experience to someone who's going to have more variety of use from the shoe."
The Echo will cost £100 and launches in September. There will be a limited edition of the shoe released as part of New Balance's New York marathon collection.
Sign up for workout ideas, training advice, reviews of the latest gear and more.