Mo Farah: It Shocks Me The Way Schools Don't Use Sport
Britain's greatest athlete opens up on his life and career in this exclusive interview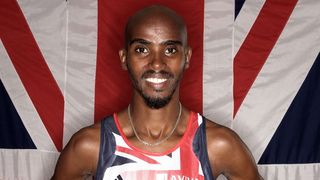 (Image credit: Unknown)
Ahead of the release of a new documentary Mo Farah: No Easy Mile, Coach caught up with the man himself to discuss everything from his move to the UK at the age of eight, through the pressures and glory of London 2012, to completing the double-double at Rio 2016.
What was the biggest challenge when you first moved to the UK?
As I was young, it was easier to learn the language, I think that was the first step. And then I was very lucky to get into sports as quick as I did, so it wasn't too difficult. I think if I was a little bit older I would have struggled a bit.
You were separated from your twin brother for 12 years after the move – how hard was that?
It was really tough. I've got twin girls and I see them so close together. There's no way I could ever separate them. So it's hard as a parent to make that decision to separate kids, to say one of them can't go… It must have been hard for my parents, how they dealt with it, what was going through their minds. But at the same time that was the situation, you just had to make it work. I did miss my brother; that's why I included it in the documentary, to show that side of me. It's not just about running, running, running.
Do you think sport is underrated in how it manages to break down barriers?
I think it's very underrated. Sport helps you to unite. The history of the Olympics is countries being able to connect, bringing everybody together. That's why you have the five rings, each colour represents a different continent. The Olympics is about bringing people together, and that's what sports does.
Do you think schools have moved too far away from sport?
I think so. It shocks me the way we don't use sport, and we don't use running. My wife never used to run; now she's addicted to running. Eleven o'clock at night, she's got that buzz and she wants to run. Running should be something that you love. It shouldn't be a punishment. People go, "Give me two laps." That's a punishment, and it shouldn't be. It should be enjoyable.
Was running your only sport as a kid?
I tried to play football, I used to play for my local team. I wasn't that good. I'm glad I chose running…
The documentary talks a lot about disappointments in 2008 and 2011. How did they affect your career?
A man learns when he gets punched, knocked out. In running, you only learn when you lose. You don't learn as much when you win. You dislike losing, it hurts more. That's one of the things I've learned, to ask, "How do you correct it?"
What was the pressure like coming into London 2012?
It was tons of pressure. Tons. Leading up to it I was a poster boy, everyone was talking about the Olympics. I tried to use that pressure. Rather than in a negative way where you go, "Oh God, so many people are here, if I fail…" I was more like, "I have a home crowd, I'm going to use the home crowd." Use it in a positive way.
Did you know beforehand that Super Saturday could involve three GB golds?
No. I didn't even know. It just happens. Even now, when someone asks when I'm racing, I don't know. I don't look that far ahead. Going back to London, I didn't have a clue I was on the same day, but it was a pretty amazing 45-minute window: boom, boom, boom.
What was the better feeling: Super Saturday 2012 or completing the double-double of golds at Rio 2016?
Super Saturday. You can't beat Super Saturday.
What did you think when you fell over on the track in Rio?
I thought my race was over. I felt like my life was done. My Olympics was done. I'd let everyone down. I doubted myself for a second. But you have to get through it. What kept me going was thinking about my daughter, I wasn't going to let her down.
Was that the gold you'd planned to win for her (Farah's four kids all have their own Olympic gold)?
Yeah.
Is the plan to finish on the track at the World Championships in London 2017, and then go on to road running?
Yeah, road running, and I'd like to get involved in helping the younger ages and see who can be the next Mo.
You're an Arsenal fan, right?
A big Arsenal fan.
Have you been to the Olympic Stadium since West Ham changed it?
(Smiles) … I can't take myself there.
Do you have a favourite place in the world to train?
London. I like Bushy Park, Richmond Park and Wimbledon Park. I always go along the river, too. It's really amazing. I do miss London – even though when I'm at Nike, the headquarters are pretty amazing, I still like home.
As the world's best 5km runner, what are your tips for Parkrun?
Pace yourself early on, save your energy in the later stages. Don't wear new trainers; wear something you're used to. Eat well the night before, stay hydrated. And don't put pressure on yourself.
RECOMMENDED: Mo Farah's Running Workout
Mo Farah: No Easy Mile is on DVD and digital download from December 5, and available to pre-order now. Pre-order on amazon.co.uk.
Sign up for workout ideas, training advice, reviews of the latest gear and more.