Why You Have To Try Running On A Woodway Treadmill
Woodway claims its self-powered running machine burns 30% more calories. We put that claim to the test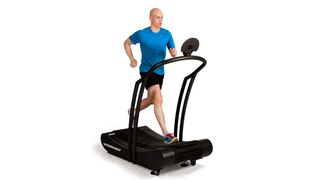 (Image credit: Unknown)
The first time you step on a self-powered treadmill like the Woodway Curve or the Skillmill, your inclination will be to leap off to safety immediately. It's disconcertingly different to a regular motorised machine and, even though it only rolls in response to your movements, it takes a few moments to realise it's not trying to throw you off.
It's worth sticking with it and getting your bearings, though, because self-powered treadmills are popping up in chains like Virgin Active and boutique gyms with increasing frequency, and are an excellent way to get a fat-scorching workout in double-quick fashion.
The running belt is almost frictionless, so it moves according to how fast you're running. To speed up, you just run faster, with your feet landing further forwards on the upward curve of the belt.
It makes the machine far more responsive than a regular treadmill, so you can go all out on your sprints, rather than trying to guess what your top speed will be and setting it on a motorised treadmill, which then takes a few seconds to get up to that speed.
As a result, self-powered treadmills are very useful for HIIT circuit workouts. You can jump on, sprint for 30 seconds at full speed, jump off and move on to the next station.
Woodway claims running on its Curve treadmill burns up to 30% more calories than it would on a regular treadmill, and having tried out a sprints session on the Curve I can confirm it at least feels 30% harder than on a standard treadmill.
I ran for 20 minutes on a Curve, alternating between jogging for one minute and sprinting for 30 seconds. It's a workout I've done many times on a normal treadmill, but it was completely different on the Woodway.
According to my wrist tracker my heart rate was, on average, about 10bpm higher than a similar workout on a normal treadmill, and I really felt the difference after every sprint. You can coast a bit on a regular treadmill, even if just for safety reasons – it's a bit daft to set a sprint speed you're unsure you can sustain, even for 30 seconds – but there's no hiding place on the Curve. I was pretty much a broken man at the end of each 30-second interval.
The Curve calculated that I'd burned over 500 calories after 20 minutes, which is almost certainly a wild overestimation as I didn't set my personal metrics on the machine. The 294 recorded by my tracker is probably more accurate and pretty good going for a 20-minute session – it works out to about 30 more calories than I would burn on a normal treadmill, which is around 10% more rather than 30%. But whereas I'd normally jog in between sprints on a regular treadmill, I was forced to walk on the Curve because I was so knackered after the intervals.
It's also worth noting that calories burned varies significantly from person to person, so all we can say for sure is that the Woodway Curve is going to torch a hell of a lot of them in not much time at all.
The downside to the Curve is that after just 20 minutes on it, I'm not sure when I'll be able to face going on it again.
Sign up for workout ideas, training advice, reviews of the latest gear and more.