The Best YouTube Videos For Post-Run Stretches And Yoga Routines
Try these free yoga and stretching videos to support your running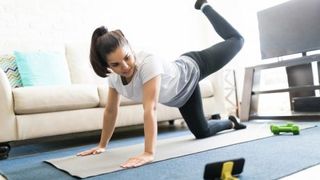 (Image credit: Unknown)
If you're a runner, you should do some kind of stretching to look after your muscles. It really is that simple. It is also, however, a bit of pain. I'm sure many runners will agree with me when I say that generally I hate doing anything other than running. Left to my own devices, I'll maybe do my calves a bit then give up. When watching a video, though, I'm much more likely to commit to doing all the stretches that are asked of me.
YouTube can be a fantastic resource, with hundreds of results when you search for "yoga for runners" or "stretches for runners". Unfortunately, not all of them will be any good and it's frustrating to get a couple of minutes in only to realise that what you're watching is complete bobbins. Trust me on that. So here are five videos that are worth watching if you're a runner looking for a guided stretching routine.
Yoga for Runners / 9 Minute Post Run Stretch
This is a great option for a quick stretch that will do your legs a lot of good. The video works through each leg in turn, hitting all the major muscle groups that need attention after a run. After the preamble, the stretching part of the video is less than nine minutes long, so even the busiest, most impatient of runners will be able to fit it into their week somewhere, and if you do have more time available you can always run through the routine a couple of times.
45 Minute Yoga to Run Strong with Faith Hunter
Athleisure doyen Lululemon has a range of great yoga videos on its YouTube channel, including three for runners. These are a 20-minute post-run stretch, this 45-minute session and a 60-minute class for when you have more time. There are also some great general yoga classes for beginners on the channel, if you're a complete newbie.
The 45-minute session has quite an intense first half that does a lot of work to build your strength and balance with several single-leg poses. In the second half there is more stretching, though I still found my core was working hard throughout, a great twofer which may saving you having to do a dedicated core workout later in the week.
I also found that while it was a tough session, that was because of the challenge of holding the poses, rather than just being completely unable to adopt them because I'm not particularly flexible. This means even an extra-tight runner like me can get the stretches done and enjoy the benefits, rather than having to watch or get into child's pose while some incredibly flexible yogi works through a series of moves I can't even begin to fathom.
Yoga Practice for Runners, 20min Sequence
An excellent, comprehensive routine for your rest days or whenever you have 20 minutes to devote to your stretching. Some of the stretches are a little tougher than you'll find in the nine-minute video above, but they're still suitable for even rank yoga beginners – and you'll only get better at the routine the more times you do it.
See related
Your Perfect Post-Run Stretch Routine
If you want a highly detailed breakdown of the benefits of each stretch you do, this is the video for you. Personally I just want to be told what to do, but if you find in-depth info useful then you'll certainly get it with this short post-run routine, all delivered in a delightful Canadian accent.
10-Minute Guided Stretching Routine for Runners
This routine clearly explains which muscles you are working on with each stretch and gives useful advice on what you should be feeling when doing them so you can be sure you're getting the stretch right. It spends a lot of time on the hip flexors, which will be especially handy for any runners who are also keen cyclists.
Runner's Yoga – Yoga With Adriene
This 30-minute video runs through a routine that focuses mainly on your breathing and on holding positions for extended periods. It proceeds at a very relaxed pace and won't be for everyone – if you've found that you get bored in yoga classes in the past, maybe try one of the shorter videos instead – but the benefits of holding the leg stretches for longer than usual do make it worth setting aside half an hour to give it a try. For my money the poses are slightly more advanced than in the other videos on this list, and if you're especially inflexible (as I am) then it's worth having a block or some cushions to hand to sit on, particularly for the second half of the video.
Sign up for workout ideas, training advice, reviews of the latest gear and more.