Last-Minute Tips For The Royal Parks Half Marathon
Make sure your race day is a happy one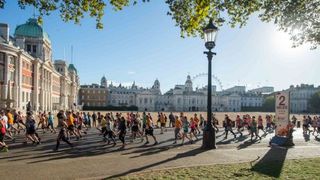 (Image credit: Unknown)
The Royal Parks Half Marathon is London's most exciting autumn running event, with a stunning closed-roads route that takes in four of the capital's eight Royal Parks. If you've been lucky enough to get a spot in the event and have put the necessary training in then you can be pretty sure you're going to have a great day, but to make extra sure of that, take heed of these handy last-minute tips.
Take An Old Jumper For The Start Line
The UK is enjoying an unseasonably warm October but temperatures before the 9am start will still be chilly, and you'll be waiting in the start funnel for 20 minutes or more. If you take an old jumper you don't mind parting with you can discard it just before you actually start running, and it will be collected and recycled by charity Traid.
Practise Pinching And Pouring
The Royal Parks Half Marathon has become more eco-friendly this year by swapping out bottles for cups at some water stations on the course. Drinking from a cup while running requires a little skill, but with the right technique you can avoid drenching yourself and make sure you get the desired hydration. Pinch the cup to form an oval and then pour from one of the thinner ends into your mouth, rather than putting the brim to your lips, where it will be knocked around the by the bounce of your running. Or, obviously, you can just stop and drink.
Steel Yourself For The Hyde Park Right Turn
There's a point like this in many races, where you start running away from the finish while you can see a whole host of runners going towards it. In the Royal Parks Half Marathon you turn right near the seven-mile marker to complete a loop of Hyde Park and for our money this is mentally the toughest part of the race – you can see runners passing the ten-mile marker around that point while you still have almost half the race to go. Our advice? Get yourself in the zone and try to ignore the signs.
Don't Go Mad When You Hit The Home Straight
Arriving in the home straight in any race is a joyful moment and usually it's the time to turn on the afterburners and kick for home. However, in the Royal Parks Half Marathon the home straight is loooong – around a kilometre – so don't start sprinting too soon or you'll run out of gas with 400m still to go.
See related
Pick Your Tube Stop
Thanks to its central location the Royal Parks Half Marathon is very easy to get to on public transport, but it's still worth planning your trip carefully to make sure you get there in plenty of time for the 9am start. The four closest Tube stations are Hyde Park Corner, Knightsbridge, Marble Arch and Lancaster Gate. Take your runner's booklet with you to see your route to the start from there.
Get Money For Old Trainers At The Runners Need Stand
If you have a pair of knackered trainers that you're ready to throw away take them to the race. You can trade them in for a £20 voucher to put towards new shoes at Runners Need as part of its Recycle My Run campaign, which launches at the Runners Need stand at the Royal Parks Half Marathon festival area. You can use the voucher there and then at the Runners Need stand, or in-store or online later.
Sign up for workout ideas, training advice, reviews of the latest gear and more.