Run For Free Beer, Join New Balance's Strava Challenges
London Marathon sponsor New Balance will exchange your miles for free drinks at its pop-up pub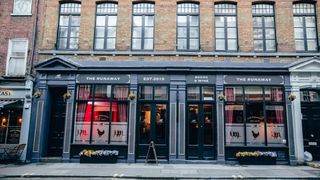 (Image credit: unknown)
March is an important time if you're training for the London, or any other spring, marathon. This is where running really starts to take over your life, with mammoth long runs lined up most weekends as you work up to tackling the full 42.2km.
Usually the weather starts to get better at this point too, which helps with getting out the door, but even so we could all use a little more motivation when it comes to the grind of marathon training, or any running to be fair. That's where New Balance's Strava challenges come in.
There are four challenges in total and they're all designed to reward runners for their efforts in training with free drinks at the Runaway, New Balance's pop-up pub in Soho, central London. This is the second year the brand has opened the temporary venue where runners can come and chat about the sport in the build-up to the London Marathon, which New Balance sponsors.
Marathon runners are still the focus of the early challenges this year, but any runner can benefit from a free drink or two by logging their miles on Strava and joining the Runaway's challenges.
See related :
The first challenge is a cumulative one and it's already under way – you have to run 100 miles (160km) between 2nd and 29th March. For every 25 miles (40km) you run you'll earn yourself two pints. Depending on when you hit those marks, you can collect your reward at the Runaway pub between 12pm and 5pm every Sunday in March.
While the first challenge rewards consistency in logging a lot of mileage over the space of a month, the second is all about one big run. That challenge runs from 6th-19th April, and it's designed to spur you on during your final long run ahead of a spring marathon. To earn your pints, you need to run 25km in a single effort. You can then collect your celebratory drinks at the Runaway on Sunday 19th April.
The final two challenges both take place after the London Marathon. The third runs from 27th April until 24th May and is another cumulative challenge: the total distance required to complete is yet to be confirmed, but you can collect your free drinks on any Sunday in May except 31st. The final challenge will run from 1st-14th June and you can pick up your free drinks on 7th and 14th June, but the details of what you'll have to do to earn them are also yet to be confirmed.
Even if you don't sign up for or complete any of the challenges, it will be worth visiting the pub on a Sunday, especially in the build-up to the London Marathon. The place will be teeming with keen runners ready to chat about the sport and there will be lots of advice available for first-time marathoners in particular. You'll find the pub at 59 Greek Street, London W1D 3DZ.
Sign up for workout ideas, training advice, reviews of the latest gear and more.