Run 100km In February For A Chance To Win Hoka's New Carbon Plate Shoe
Join the Hoka Project Carbon X 2 100km challenge on Strava for extra motivation to rack up some miles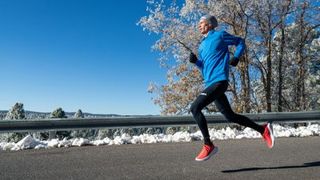 (Image credit: Unknown)
Those who keep track of ultramarathon record attempts will have no doubt watched all or some of Hoka One One's Project Carbon X 2 event on 23rd January, when a group of athletes attempted to break the world record for the 100km, and Jim Walmsley's time of 6hr 9min 25sec was just 12 heartbreaking seconds away from setting a new record.
In the wake of that epic event Hoka is challenging all runners to cover 100km, but cumulatively over the course of a month, rather than in one go. You only get 28 days, though, not 30 or 31, since runners are tasked with logging 100km in February.
You'll also need to be a user of activity tracking app Strava to take part in the event, because that's where you have to join the challenge and log your runs to be eligible for the prize, which is a pair of the Hoka Carbon X 2 carbon plate running shoes used by Walmsley and his fellow pros in the recent record attempt.
See related
There are 20 pairs up for grabs, although considering over 20,000 people have already signed up, the odds are against you nabbing a new set of kicks. But even if you don't win the shoe you'll still be racking up some impressive distance, and having some extra motivation to keep running through February is no bad thing.
We haven't had a chance to test the Carbon X 2 yet, but the original Carbon X was an excellent long-distance racing shoe. It was more durable and stable than many of the other carbon super-shoes out there, if lacking the all-out pace of, say, Nike's Vaporfly.
The new Carbon X 2 will certainly be a great shoe to get for free, so sign up for the challenge on Strava. And if you're a very keen runner for whom 100km in a month is a doddle, why not invite a few friends and see who can hit the mark quickest in February?
Sign up for workout ideas, training advice, reviews of the latest gear and more.