Plant Power Protein Smoothie Recipe
This vegan smoothie devised by nutritional physiologist Rick Hay contains an abundance of nutrients that may help fight the effects of ageing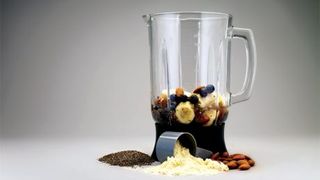 (Image credit: Unknown)
Brimming with nutrients from plant sources and plenty of healthy fats, this smoothie aims to help you function at your best, and help fight the internal and external effects of ageing. It also contains protein to help your muscles recover and grow, and it's vegan-friendly too.
You probably know that we should all be eating healthy seeds and kernels. This smoothie contains chia seeds, which are full of omega-3 fatty acids that are vital for proper cell function, and almonds, which contain an amazing amount of nutrients including antioxidants that can help prevent oxidative damage.
There's plenty more where that came from – take a look at our best smoothie recipes, or to refuel after a workout try our best protein shake recipes. This smoothie can be enjoyed as part of a weight loss meal plan for women or a weight loss diet plan for men – just swap it out for a meal or snack of a similar calorific value.
Plant Power Protein Smoothie Recipe
518 calories
Ingredients (Serves One)
Handful of blueberries (frozen or fresh)
½ a banana
1 scoop of plant protein
1tsp greens powder
Handful of almonds
1tbsp chia seeds
Nutrition
We popped the ingredients into Myfitnesspal, one of the best weight-loss apps for calorie counting, to get an approximate nutritional breakdown for this smoothie. It provides 55g of carbohydrates, 29g of protein, 25g of fat and 14g of fibre, and contains 518 calories.
Blueberries contain antioxidants, which improve cognitive function and keep your skin clear.
Bananas are high in potassium, which helps to maintain optimum blood pressure and protects your heart.
Chia seeds are packed with antioxidants that prevent skin cell damage and are an excellent plant-based source of omega-3 and omega-6 fatty acids, essential for cell function and immune health. They're also rich in calcium, which helps promote bone health.
Greens provide a potent cocktail of nutrients and phytonutrients.
Plant protein is rich in amino acids that help you build lean muscle.
Almonds are a source of L-carnitine, which helps your body metabolise fat and control blood sugar levels. These nuts also contain vitamin E, a powerful antioxidant that can help reduce inflammation and improve immune function.
---
More About Healthy Eating
Sign up for workout ideas, training advice, reviews of the latest gear and more.
Lucy Miller is an experienced journalist who has worked across a range of health and fitness titles. She was the fitness and nutrition editor at Men's Fitness UK, and has also been fitness editor of both Health & Fitness UK and Women's Fitness UK. Lucy qualified as a NASM-certified personal trainer and nutritionist in 2008.