Leicester City Manager Claudio Ranieri on How to Handle Pressure Like a Champ
Mr "Dilly Ding Dilly Dong" on keeping cool in a title dogfight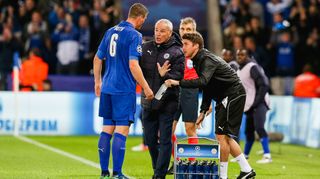 (Image credit: Unknown)
Pressure affects all walks of life, and what can seem trivial to one person is another's Everest to conquer. Leicester City's players, staff and fans dealt with some unexpected pressure last season, when they upset the extremely long odds to win the Premier League. Leading them to that triumph was Claudio Ranieri, whose laidback approach proved exactly the fuel needed to inspire perhaps the greatest success in England's top-flight's history.
How did you keep your players from feeling the pressure during the title race?
I believe in one thing, and with all my teams I believe the same. If you come to your job, and there is someone standing behind you with a gun, saying: "This is wrong, pow pow!" you are not confident. I give you all my confidence, and then I say, "Play easy, what you think is OK, I am behind you." After that we watch and see how we can improve you – but not to blame you, just to improve your match, and your ideas about football. I think the team is an orchestra. We have to play together. If you have "dum dum dum" and the other is [makes scratchy violin noise]… No. We have to do everything together.
When you are speaking with your players, you have to be very open. I prefer to speak directly, look in their eyes and say: "I can make mistakes, and you can make mistakes when you play. I make mistakes because I believe in this, but if you show me something different, I am an open man, I change my idea." And I love my players, I feel my players, and I think they understand it. Nobody can tell me "This is not a good player" – for me they are the best, it is a family, nobody can tell me something about my sons.
RECOMMENDED: Northern Ireland Manager Michael O'Neill on Motivation
Who was your hero as a boy growing up?
I think my parents. My parents showed me the way to be an honest man, to be a hard worker and how in every job you want to do, you've got to do the best you can. Then you can do well, or not, but you are satisfied.
What's the most important lesson that football has taught you?
I think for all young people – the sport is fantastic. Why? Because there are rules, you have to accept these rules. If it is wrong, it is a foul. And this is life.
Did winning the title with Leicester City last season change you in any way?
No, I forgot already! My family, they are the same, look forwards always, forget and look forwards. Tomorrow is another day you have to work.
Claudio Ranieri was speaking at the TAG Heuer Premier League Pressure Test. TAG Heuer is the first ever Official Timekeeper and Official Watch of the Premier League
Sign up for workout ideas, training advice, reviews of the latest gear and more.