Four Football Shooting Drills To Make You A Better Marksman
Turn your hit-and-hopes into sure things with these shooting drills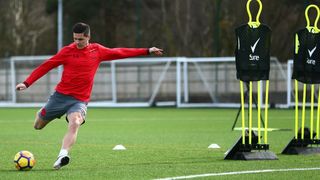 (Image credit: unknown)
There are many ways to improve your game in training, but none of them are as fun as shooting drills. And that goes for you whatever your position is. Practising finishing might be more important for strikers to focus on, but that doesn't mean left-backs don't relish the chance to swap sprint drills for blasting balls into the net, or even well wide of it.
Even professional footballers love shooting drills, as this video from Southampton's training ground shows. Mario Lemina, Sofiane Boufal and Guido Carrillo tackle four shooting drills designed by England FA coach Allan Russell, creator of the Superior Striker coaching programme. One of the drills is an attempt to recreate Lumina's wondergoal against West Brom from earlier in the season, and all four form a new challenge, Beat The Stat, in Sure deodorant's Pressure Series.
The Beat The Stat challenge uses data from Opta stats that show how likely a Premier League player is to score from a certain place on the pitch. The challenge is then to score more often than the stat suggests you should. Below you'll find Russell's four drills, along with how often they are scored in the Premier League, so you can try to prove yourself the match of a top-flight player.
Make sure you have a keeper willing to take part in the drills – you can't just roll the ball into an empty net and claim to be the next Harry Kane. The video also shows how Russell has set up his defender dummies to make each drill more realistic. If you don't have the equipment yourself, or even enough jumpers, just try to make sure you move to the right spot before shooting each time.
RECOMMENDED: 5-a-Side Football Tips, Tactics and Workouts
1. Long Shot
Receive the ball outside the D of the penalty area, take a touch to control it, move to the side of the D and then fire away. Southampton fans – it might be best not to watch Carrillo's attempt.
Only 8% of these shots are scored in the Premier League.
2. One-On-One
Finishing one-on-one tests your nerve as much as your skill, so it's harder to recreate in training, but this drill should build the confidence and composure needed to slot home when it really matters. In the Premier League, these chances are finished 50% of the time. Play a one-two that takes you into the box and try to finish. Extra points if you replicate Boufal's rainbow flick.
3. First-Time Finish
Always harder to pull off than it looks – only 15% of these shots go in in the Premier League – and it comes with the added risk of missing a sitter and looking a fool. Get someone to deliver a few different crosses to just outside the six-yard box and try to finish first time. And if the balls ends up in row Z more times than the net, maybe striker isn't the best position for you after all.
Bonus Round: Match Mario
Lemina's thunderous long-range finish against West Brom has been identified as the hardest chance scored in the Premier League this season – with only a 1.06% chance of scoring from that position. Basically, you receive the ball a few yards away from the D of the penalty box and hit it as hard as you can. Aim for the top-left corner to match Mario. Or, dink it into the top-right corner if, like Carrillo, you didn't listen to the instructions.
Sign up for workout ideas, training advice, reviews of the latest gear and more.