Take Part In The 2.6 Challenge And Help Save The UK's Charities
Raise money for charity by undertaking an activity related to the numbers 2.6 or 26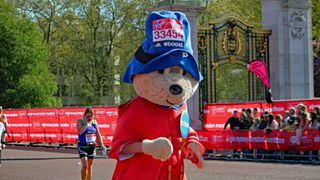 (Image credit: Uknown)
A lot of people were disappointed when the organisers of the London Marathon were forced to postpone the 2020 event to October owing to the COVID-19 pandemic. However, while it might be frustrating to have done a lot of training for an event that was then postponed, that's really small fry compared to the impact the change of date has had on the UK's charities.
The London Marathon is the world's biggest one-day annual fundraising event, and brought in £66.4 million for charities in 2019. That's a lot of money suddenly not going to good causes in 2020, which is why the 2.6 Challenge (opens in new tab) has been created to help make up some of the shortfall.
Starting on Sunday 26th April – the date the 2020 London Marathon was due to take place – everyone is encouraged to run 2.6km, or walk for 26 minutes, or hold a plank for 2.6 minutes (or 26, if you're feeling strong), or do any kind of activity related to the numbers 2.6 or 26, and raise funds for or donate to Save the UK's Charities. The only other guideline when it comes to your activity, and it is an important one, is that it must follow government advice on social distancing.
See related
"For many of the UK's charities, the day of the London Marathon is the biggest fundraising day of the year," said Hugh Brasher, co-chair of the mass-participation sports organisers group and event director of London Marathon Events.
"One of the founding pillars of the London Marathon was 'to show how the family of mankind can be united'. We hope that the 2.6 Challenge, which starts on the day our 40th race should have taken place, will embody that spirit and inspire people, families and communities to fundraise for their chosen charity to help Save the UK's Charities. Right now, our vulnerable members of society need the help of charities more than ever before. We are asking everyone to create a 2.6 Challenge of their own and raise funds or pledge a donation."
The money raised by the 2.6 Challenge will be proportionately distributed to all the charities involved by the Charities Aid Foundation. Head to the 2.6 Challenge website (opens in new tab) for more information and to get involved.
Sign up for workout ideas, training advice, reviews of the latest gear and more.