Check Your Sports Supplements For DMAA, The Drug That Cost Bolt His Gold
This ingredient is a health risk for Olympians and amateurs alike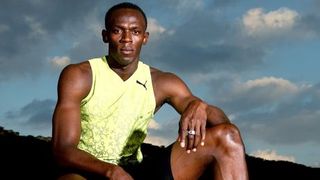 (Image credit: Unknown)
Never heard of DMAA? Well, it's the substance that Jamaican sprinter Nesta Carter has tested positive for – a result that has cost Usain Bolt his 4x100m gold medal from the Beijing Olympics in 2008, and spoiled his triple-triple of golds.
Now the Medicines and Healthcare Products Regulatory Agency (MHRA) has launched a Week of Action to raise awareness of the potential health risks associated with DMAA, which is found in some unlicensed medicines and sports supplements.
The dangers of DMAA can extend well beyond Olympians losing medals. The MHRA warns that it has been linked with high blood pressure, tightening in the chest, strokes, heart attacks and even death.
In 2012, Claire Squires, 30, suffered a fatal heart attack a mile from the finish line of the London Marathon. She had used a powder called Jack3D, which contained DMAA as the active ingredient, for a boost to help her finish the race. The coroner ruled that DMAA was a contributory factor to her death.
Despite these risks, the MHRA says that DMAA is still found in a significant number of products that remain on sale in the UK. That's why it is keen to make all athletes aware of the dangers, and to encourage them to check any products they use for this potentially harmful ingredient.
It's tricky to keep track of DMAA, partly because it has a variety of names, including geranium extract, geranamine, and methylhexanamine. The first step is to check the Global Drug Reference Online list for the alternative names for DMAA.
If you suspect a supplement does contain DMAA, you should email dmaa@mhra.gsi.gov.uk with the details.
Dr Chris Jones, manager of the MHRA's Medicines Borderline Section, says,
"We first removed these products from sale in 2012, and will protect public health by continuing to do so.
"Although the sale of DMAA products has dropped since 2012, any companies selling this unlicensed medicine is one company too many."
The Week of Action runs from 30th January to 5th February, and is part of the FakeMeds campaign that aims to highlight the risks of buying unlicensed medicines online. Visit www.gov.uk/fakemeds for more information.
Sign up for workout ideas, training advice, reviews of the latest gear and more.