Start Swimming with Swim Dem Crew
Challenge yourself with this fun, supportive London swimming club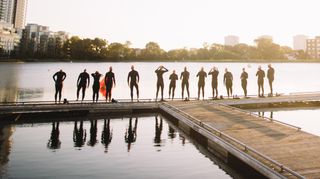 (Image credit: Unknown )
Few sports incite apprehension in novices quite like swimming, which is understandable, as it's very difficult to drown or be eaten by a shark on even your very first attempt at jogging.
One sure-fire way to help overcome your pool paranoia and make swimming more enjoyable is to go with other people. Swim Dem Crew is a relaxed swimming club for all levels that meets in lidos and pools all over London each week. Coach spoke with co-founder Peigh Asante to find out more about Swim Dem Crew's origins and ethos.
RECOMMENDED: Benefits of Swimming
How did Swim Dem Crew get started?
It started by circumstance – I got injured running, and the physio suggested that I should swim as part of my rehabilitation. I saw that [Swim Dem Crew co-founders] Nathanial and Emily were swimming loads as well, as when I went to the pool all I'd ever seen were mums and babies, and people over 60, so I was shocked that there were people my age swimming.
Emily and I just started swimming all the time, every Saturday,and it just organically grew from there to be honest. It was never a premeditated thing, it just sort of happened. People would join us and, eventually, it got to a point where it just grew and then we started putting the word out.
Were you a complete beginner at the start?
Yeah, a complete novice.
How long did it take you to get good at swimming?
It took maybe four months to have the confidence to do a triathlon [Peigh's first triathlon was at Dorney Lake in Eton in 2013], but my swimming was really terrible, looking back on it, my swimming was absolutely sh*t. But I still did it.
RECOMMENDED: Total Immersion Swimming for Triathletes
Why do you think people are apprehensive about swimming?
There's a lot of faffing about. With running you sort of put on your shoes and hit the road. With swimming there's a lot more involved, and plus, it's the one sport where you really do have to leave your ego at the front door. With running you can stop or go as slow as you want, with swimming you don't really have that.
Is there a key ethos at Swim Dem Crew?
There's not one in particular, but we want people to be daring and willing to go into the unknown. It's about challenging yourself, so we always try and encourage swimmers to push a little bit further and embrace it like a child. When you're childlike you don't really develop the notion of fear or anything like that, you just do it and then think about it after, and that's something that we definitely try to encourage at Swim Dem.
What's the best way to get involved?
Every Saturday we tour – we put a poll on Twitter, and the people decide where we swim. So vote, get involved in that poll, decide where we swim then meet us on that Saturday.
After a tireless campaign driven by our wonderful local community, @SadiqKhan has committed to funding the renovations for the 50m pool and diving pool at Crystal Palace. We now must ensure that this is delivered on as soon as possible & get our pools reopened.November 12, 2021
Do you have any advice to give people nervous about swimming?
Just do it! Don't overthink it, we spend a lot of time planning, thinking and not enough time executing.
RECOMMENDED: Adult Swimming Lessons and Pools in London
For more info head to swimdemcrew.co.uk or follow them on Twitter and Instagram
Sign up for workout ideas, training advice, reviews of the latest gear and more.