The Hardest Swimming Class You'll Ever Take
Speedo and Virgin Active's new HIIT water-based workout is swimming – but not as you know it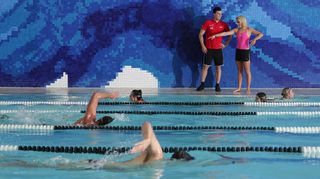 (Image credit: Unknown)
If the last time someone coached you through your lengths your eyes were firmly on the prize of another Frosties badge to adorn your towel, then it might be time to give your swimming a shake up with this new water-workout from Speedo.
Britain's pools are a great underused resource, and are being shut down at a rate of knots. For years now, gyms have been bursting at the seams with treadmill pounding calorie-burners after their cardio fix, while half-empty pools are filled largely with middle-aged women bobbing through their breaststroke or Aqua Zumba and that one angry office worker attempting to take his midweek frustrations out on a length of vicious, splashy butterfly.
RECOMMENDED: The Benefits of Swimming
Speedo and Virgin Active are hoping to ride the wave of Team GB's Rio success and get the nation swimming with their new Hydro class. This is swimming – but not as you know it. Forget fitting in a session of leisurely lengths before retiring for a congratulatory sauna, this is hard, and will leave you out of breath and probably sweating – although the general wetness makes it hard to tell.
With the aim of making you think of the pool with the same attitude as you see the gym floor, these weekly sessions – which cater to all abilities, adapting the distance for your swimming strength – recognise that without a coach to motivate you into completing your lengths it is all too easy to slip off halfway through.
The coach motivates you just like a spinning class, encouraging everyone to give their all as they take you through an ever-changing routine designed to build your swimming strength and burn calories (an estimated 300 in half an hour).
RECOMMENDED: Swimming Workouts
Coaches are on hand to offer you tips on your technique and work in some intense games to mix things up, to show you that interval training can be done in the pool. Other strategies include getting you to climb out of the pool at the end of each length to practise that swim-to-stand transition so essential for triathlons. It's hard, and it's meant to be, hoping to challenge your notions of the pool and have you looking at the water with the same trepidation inspired by the treadmill.
We found it a bit of a shock to the system. Coach swims regularly but leisurely, and found itself quickly out of breath, but the coaches were great at switching the difficulty up to cater for the different fitness levels. It's a good way to work in some cardio that targets the upper body and arms, and Coach was feeling it in the shoulders by the end of the class.
Sign up for workout ideas, training advice, reviews of the latest gear and more.