Make Swimathon Your First Fitness Challenge Of 2020
Enter now so you have time to train for a truly epic charity swim in March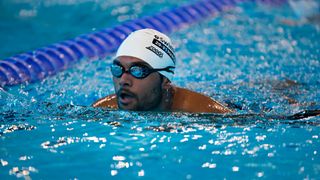 (Image credit: Unknown )
Even if you're already an active person, we bet you find it hard not to get swept up in the "new year, new you" commitments – hey, you're probably more susceptible than most to signing up for physical challenges. So allow us to suggest you make completing charity event Swimathon (opens in new tab) your first target of 2020.
The event raises money for Cancer Research UK (opens in new tab) and the Marie Curie (opens in new tab) charity, and the organisers are hoping that 22,000 people will take part in 2020, which means taking on one of the swimming challenges on the weekend of 27th to 29th March.
Entries are open on Tuesday 5th November, which may seem mighty early but if you commit now and start hitting the pool, you'll be able to tackle one of the harder challenges even if you're not already an accomplished swimmer. The longest single distance available is 5K – 200 laps of a 25m pool – and if even that doesn't feel tough enough you can opt for the triple 5K challenge, where you swim 5K on each day of the event. If you're not sure how to go about training for a long swim the Swimathon website has tips and training plans (opens in new tab) you can use to prepare for the event.
See related
There are also several shorter options available – 400m, 1.5km and 2.5km – and you can also sign up as a team to tackle 1.5km or 5km. Any of the challenges will work as the perfect goal to work towards in the early months of 2020, especially as you'll probably be doing your training indoors in a heated pool (much respect to those who stick to outdoor lidos though). If you contrast that with people logging long runs through the wind, rain and snow in the build-up to the London Marathon, it'll probably make you feel pretty good.
Swimathon is also very flexible when it comes to the event itself. There are more than 600 pools around the country taking part, so you can complete your challenge at a local venue. Even if there isn't a participating pool nearby you can join the MySwimathon challenge, where you complete a swim of any distance in a convenient pool at some point between Friday 20th March and Sunday 7th April, and log your time on the Swimathon website. You still get the medal, and you can still raise a load of money for charity.
It costs £14 to enter Swimathon. There's no mandatory fundraising target, but you'll naturally want to raise as much as possible for Cancer Research UK and Marie Curie with your swim.
Sign up to Swimathon (opens in new tab)
Sign up for workout ideas, training advice, reviews of the latest gear and more.