Train With The Mountain From Game of Thrones With These Free Strongman Workouts
World's Strongest Man Hafþór Júlíus Björnsson is hosting workouts on Zoom and IG TV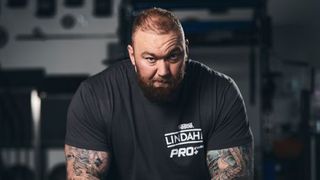 (Image credit: unknwon)
While we'd never say it to their faces, it's not always the case that the hunks you see in TV shows and films are as strong as they appear. Perhaps because they've spent all their time on hypertrophy training and skipped the foundational work required for serious strength.
That's absolutely not the case with Hafþór Júlíus Björnsson, who played Gregor "The Mountain" Clegane in Game Of Thrones. Icelander Björnsson is also a professional strongman who won the World's Strongest Man competition in 2018 and has made the podium for the past eight years straight.
If you want to get a first-hand look at how someone that strong trains, sign up to one of the three workouts Björnsson is hosting with Lindahls PRO, a range of high-protein dairy snacks and drinks.
There are three workouts scheduled. The first is a speed session – that's right, The Mountain is fast as well, which is terrifying – lined up for Tuesday 3rd November at 6.30pm. The second session focuses on building your lactic acid tolerance, which sounds painful. That's at 8am on Wednesday 4th November. The final workout is all about strength and takes place on Monday 16th November.
See related
The first two workouts will be hosted on Zoom and the third on the Lindahls UK IGTV page. If you want to join the Zoom workouts sign up on Eventbrite, and move quick because the 100 places per session are given out on a first-come, first-served basis.
Each of the workouts have been adapted from Thor's Power Program (somewhat inevitably, Björnsson's nickname is Thor), a training plan for strongman competitions. The workouts are designed so people of different fitness levels can take part, whether you're in the gym or at home.
Register for the speed session | Free
Sign up for workout ideas, training advice, reviews of the latest gear and more.