Alexander Skarsgård's Workouts For The Northman Were In The Morning – Here's Why You Should Follow His Example
Magnus Lygdback on the regime that helped Skarsgård's achieve his shredded physique in The Northman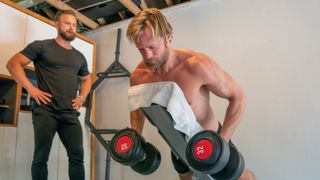 (Image credit: Unknown)
Alexander Skarsgård is a highly accomplished actor, and probably a lovely person too, but we're not here to talk about those qualities. We're here to talk about the absurd physique he developed to play Amleth in the new film The Northman.
Magnus Lygdback is the trainer who helped Skarsgård get in shape, having also trained him ahead of his role in Tarzan. We also spoke to him after he trained Alicia Vikander for her role in Tomb Raider and he shared this beginner workout plan for women.
In The Northman, Skarsgård has a bulkier physique than in Tarzan, and we quizzed Lygdback on how they went about achieving that cut but muscled body. Here's what we learned.
Skarsgård trained five times a week during filming
"It was a five-day split, or really a four-day split, with the fifth day spent on recovery stuff," says Lygdback. "We worked out six days a week during the prep, then while filming we did five days a week. Never more than an hour."
The focus was on strength training to bulk up
"I usually integrate a lot of high-intensity interval training into my programming," says Lygdback. "And we did warm up by running for five to 10 minutes at a fairly good pace. But then I didn't want to spend more time on that – I wanted to allow Alex to use all that energy to grow as much as possible.
"After getting the body warm, we then warmed up the body parts that we were about to work, which means banded exercises, some activation and stability work," says Lygdback. "Then we hit the weights.
"I use higher weights and medium-low reps for something like this. We mostly did eight to 12 reps. Sometimes a pyramid, sometimes in a flat set, and three to four sets normally."
The sessions were targeted around body parts
"If you work out twice a week, yes, do full body," says Lygdback, "but you can't work out five days a week and do the same things. I'm a big fan of a training split, really stressing one part of the body, and then allowing it to rest while you work on something else the day after."
Mobility work was key to keeping Skarsgård injury-free
"Making sure that someone stays injury-free is the number one thing that I do," says Lygdback. "Because if production shuts down, that's millions of dollars and it's my fault. So far I haven't had anyone getting injured on set, but it would be a disaster.
"With Alex, we did a lot of shoulder mobility, and strength and balance around the shoulders and hips. So he could handle all these long, physical days swinging an axe."
Skarsgård trained in the morning and you should too
"If you want to look like Alex you need to do it in the morning," says Lygdback. "It sets a physical and a mental standard that you take with you throughout the day. There's no way around it. Trying to get a workout in if you're exhausted from being on set all day will not work. You can do that once or twice, but that cannot be how you schedule things."
Good news: you don't have to work as quickly as Skarsgård to get in his shape
"I'm a man of balance. I preach balance in food and training and life," says Lygdback. "But when doing a film like this you take balance and throw it out the window.
"I do think that all the programming is great and works, and people can do it, but they should allow themselves some more time. Maybe pause because you got a bad shoulder or knees. You can't stop when you do a film like this, you have to find a way of working around problems, and I don't like that. I think that's important to allow yourself more time and more rest in between."
Diet is crucial to success
"People always ask me 'how much is diet and how much is training – is it like 50/50? 60/40?' I say you can't even compare them with each other," says Lygdback. "You need to get on top of both. It's 100/100. If you're not on top of your nutrition, you're not going to look that way. You won't have that low amount of body fat, you will not have that muscle mass, and you will not stay injury-free throughout six months of a physical marathon. So nutrition is crucial."
You can't rely on motivation to keep you going
"Please don't rely on motivation," says Lygdback. "Motivation comes and goes. Consistency, and holding yourself accountable, is what matters. You've just got to show up. It's OK if you're tired. It's OK if you don't want to do it. Just show up. That's how you get there. If you rely on motivation you're failing, because no-one's motivated all the time."
The Northman is in UK cinemas from 15th April. You can learn more about Magnus Lygdback's training plans via his app Magnus Method.
Sign up for workout ideas, training advice, reviews of the latest gear and more.