Get Six Free One-On-One Video Yoga Sessions, If You're Quick
New yoga app HelloYoga is offering the first 500 users to sign up six free sessions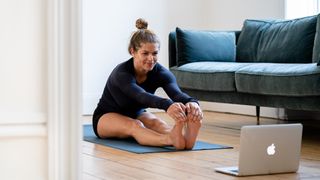 (Image credit: Uknown)
For reasons that we don't need to go into, we're all about to start avoiding gyms, yoga studios and anywhere else where we train in a confined space with other people. If you're an experienced gym-goer or yogi with a well-equipped space at home, that's not a major problem, but if you're not sure what you're doing then home workouts are a less appealing proposition.
That's especially true for yoga newbies, because it's something that's best done under supervision to ensure you're adopting the right poses in the right way for the right amount of time.
Fortunately new yoga app HelloYoga is here to help – and for free, if you're one of the first 500 people to sign up for the app using the not-at-all-ghoulish code HELLOISOLATION. That will entitle you to six free one-on-one sessions with a yoga instructor on the app, which would normally set you back £89.
See related
On HelloYoga you can book one-on-one video sessions with experienced yoga instructors, who will guide you through your flow with the kind of attention you can only get in personal instruction. It's a particularly good option if you're not a fan of being corrected by yoga teachers and don't enjoy having to tell them.
All you need is space to practise, a laptop with a camera or an iPad or iPhone (sorry Android owners, there's no Google Play app yet), and a reliable Wi-Fi connection. You have to provide your card details as part of the sign-up process, so you'll need to remember to cancel once you've used the free sessions to avoid being charged – using the calendar on the device to set a reminder is a smart move. If you find that the service is a revelation you'll happy pony up for, subscriptions cost £39 for two sessions, £69 for four sessions and £89 for six sessions.
Sign up on HelloYoga | Download from App Store | Use code HELLOISOLATION for six free sessions
Sign up for workout ideas, training advice, reviews of the latest gear and more.