Shaun T's Best Step Exercises
One small step can be a giant leap forward for your fitness routine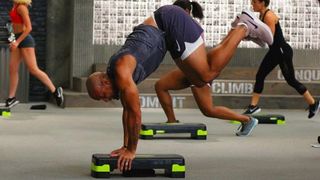 (Image credit: unknown)
The step is one of the more unassuming pieces of fitness equipment. It only takes a glance at a loaded barbell or towering cable machine to know you're in for a tough workout. But the step? It's far from daunting.
That just goes to show the old maxim about books, covers and judging works just as well in the gym as it does in a library, because in the right hands you can achieve a whole lot with a low platform.
Shaun T has the right hands. In his six-week training programme Transform:20, available from Beachbody On Demand, the step takes centre stage and is used for all manner of different exercises as you power through 20-minute HIIT workouts designed to burn calories and build muscle.
For those who'd like to get acquainted with the step at a more leisurely pace, we asked Shaun to pick five of his favourite step exercises from Transform:20 for you to try.
"The hardest moves in Transform:20 are the moves that are explosive so you really have to focus on the step," says Shaun. "My challenge to you is to do these moves as slowly as you possibly can. That way you really can feel them in your entire body."
Each move is demonstrated by Chip, one of the trainers on the Transform:20 team. Try each of the moves a few times to make sure you have the form down, then you can string them together for a full-body workout.
Linking squat lunge
"My favourite move is the linking squat lunge," says Shaun. "It's so dynamic. You're working your hamstrings, your quads and your glutes all at the same time."
Table-top shuffle
"My second favourite," says Shaun. "You are working your shoulders and your abs, and it also tests your agility."
Parkour
"This involves a lot of core twists," says Shaun., "It's going to burn!"
See related
Peanut butter and jelly
"This has a little bit of power and a lot of control which I really enjoy," says Shaun.
Hip roll-over to pike-up
"I had a tough time with this move but it is great for a balanced workout," says Shaun. "It's really, really dope."
Aerobic Steps To Buy
If your home gym is currently lacking a step, here are a few options to consider.
JTX Aerobic Step
This step can be adjusted to three different heights, and the non-slip rubber surface on the top means that you get reliable grip even when powering through sweaty HIIT sessions.
Buy from JTX | £99
Domyos Comfort Step
You can use the interlocking legs on this step to adjust the height from 15cm to 20cm, and it can handle a load of up to 110kg. There are storage compartments on each end of the step where you can stash a towel and a water bottle for easy access mid-workout.
Buy from Decathlon | £59.99
TJC Fitness Aerobic Stepper
Those looking for a smaller step should check out this budget option from TJC Fitness, which can be set at either of two heights and is easy to stash in a cupboard or under the sofa.
TJC Aerobic Stepper 2-Level Adjustable Step Board (10cm/15cm), Exercise Step, Aerobic Step Board for Workout Gym Home Yoga Anti-Slip Surface - Blue
Sign up for workout ideas, training advice, reviews of the latest gear and more.