Try This Rowing Pyramid Workout On Your Next Gym Visit
Ay oh way oh, ay oh way oh – row like an Egyptian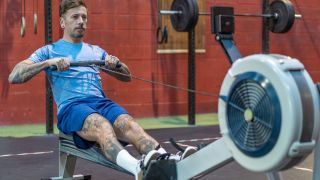 (Image credit: Getty Images / Alvaro Lavin)
In a pyramid workout, something – the reps, the speed, the intensity, the whatever – increases step by step until it peaks, then decreases step by step. That makes it a very different kettle of fish from most workouts, where you hit your maximum effort but then stop or hit a long recovery stretch. In a pyramid session you're faced with an only slightly easier block of work.
That's just something to think about when you sit down on the rowing machine to tackle this workout from GB rower and Olympic gold medal winner Will Satch. When you get to the top of the pyramid, be prepared to keep working.
"The workout is based on effort and it's as hard for beginners as it is for the pros," says Satch, "It should be done at max effort for as long as you can hold it."
The workout is broken down into 250m intervals. You work hard for 250m, then coast the next 250m. Each time you hit a 250m work interval, increase your stroke rate by two strokes per minute until you hit the top of the pyramid. At that point you come down the other side of the pyramid, decreasing your stroke rate by two strokes each work block.
How tough the pyramid is will depend on how fast your stroke rate is for the first interval and how many intervals you opt to do in total. There is a suggested start point and total distance below, which you can alter depending on your fitness.
"You will be using different anaerobic systems the further into the workout you go," says Satch. "The more advanced you get, the higher the number of strokes per minute you can start out at."
Rowing Pyramid Workout
Warm-up
Row for 500-1,000m. Start by moving your arms only, then swinging your back, then moving out to full slide.
Workout
Set the screen to count down from 5,000m (or less, depending on your fitness level).
Row at 22 strokes per minute and pull as hard as you can for 250m, then paddle with minimal effort for 250m.
Do the same for the next 250m at an increased stroke rate, two higher than the last section of effort, so 24 per minutes, then paddle with minimal effort for 250m.
Continue to do this until you reach 30 strokes per minute, then after your 250m of rest paddling, do another effort at 30 strokes per minute.
Following this you should then drop the rate by two strokes per minute on every effort section until you are back down at 22 and you have reached your 5,000m goal.
Warm-down
Light paddle for 500-1,000m
---
More About Indoor Rowing
Sign up for workout ideas, training advice, reviews of the latest gear and more.