Are Single-Speeds the Best Commuter Bikes?
Looking for a speedy bike to bypass the morning Tube crush? The lightweight Quella Nero could be right up your street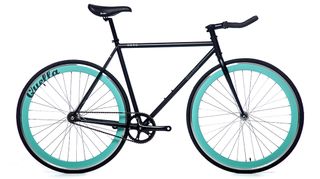 (Image credit: Unknown)
It's unfortunate that single-speed bikes have become synonymous with hipsters, as it can close off large swathes of the population to the idea of the simple cycles, which are an excellent option for many commuters.
Unless you live in a hilly part of London – a city hardly dotted with towering mountains – losing the gears is unlikely to hurt much, and the lack of maintenance required for a single-speed bike is a definite boon for casual cyclists.
As well as the lack of upkeep, single-speed bikes are generally cheaper and lighter, worth looking into if you're considering ditching the Tube for the cycle lane.
To get a taste of life in one gear, Coach tried out the new Quella Nero.
RECOMMENDED: Free Bikes for London Commuters
Quella Nero One-Speed Bike
The Nero is the latest in a line of stylish commuter bikes produced by Cambridge company Quella. Designed to be reliable, with minimal maintenance, and impressively economical, the Nero is an excellent option for those keen on dipping a toe into the world of one-gear cycling – especially as it can be ridden as either a single-speed or fixed-gear bike.
Single-Speed vs Fixed Gear
The main difference between single-speed and fixies is that you can "coast"– stop pedalling – on the former and the wheel keeps on turning. On fixed gear bikes, you have to pedal at all times, even on the downhill parts you like to rest on, in order to keep the back wheel going.
RECOMMENDED: Next-Gen Bike Locks and Security
Coach Puts The Quella Nero To The Test
A committed gears enthusiast, Coach was apprehensive about life on a single-speed.
These fears were unfounded. The Nero is a speedy beast, and geared in the sweet spot where it's low enough that you can get a quick start from the lights and climb hills, but also high enough to get up speed on the flat.
The steepest of hills did require serious effort in the first couple of days, but this was as much due to having to get used to a new bike as anything else. Once you get a feel for the Nero, hills that would normally require a gearshift are conquered without trouble.
Coach spent most time in single-speed mode, due to a love of the free-wheeling that fixed-gear bikes don't allow. Opting between the two is largely a personal preference though.
Quella Nero £329, quellabicycle.com
RECOMMENDED: Which Folding Bike Is the Best for Commuters?
Sign up for workout ideas, training advice, reviews of the latest gear and more.