Can You Cycle 300 Miles In September?
You can ride indoors or out, and cover the distance over as many rides as you like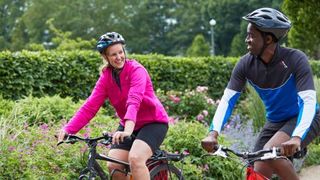 (Image credit: Unknown)
With the cancellation of so many huge fundraising events, 2020 has been a tough year for charities. It's also been a tough year for anyone who loves to get involved in mass participation events and uses them as motivation to exercise all year round.
If that's you, then the Cycle 300 challenge is something you should definitely take part in. The event raises money for Cancer Research UK and involves covering 300 miles (482km) on your bike throughout the month of September.
You can do this in whatever way most appeals, whether it's logging 10 miles (16km) every day for 30 days, or opting for three epic 100-milers on Sunday long rides with friends.
See related
The best way to keep your total ticking over is to commute by bike, if indeed you are heading into the office at the moment. And if you're someone who enjoys spinning classes then make sure you have a way to track or at least estimate your distance covered during those, because you'll be amazed at how much ground you cover giving it your all in a sweaty HIIT session.
If 300 miles sounds a little much you can also sign up to ride 200 miles (322km) over the course of the month, or you can ride the 300 as part of a team, splitting the distance between you.
When it comes to your outdoor rides you can track them using any number of free GPS apps such as Strava or MapMyRide, or you can use a bike computer or sports watch to keep tabs on your progress.
This year Cycle 300 has integrated with Strava, which means you can link your JustGiving page to the app so your rides show up there automatically, making it easier to track the distance you cover during the month.
Cancer Research UK estimates that it will suffer a 30% decline in fundraising income in 2020, alongside hefty cuts to research budgets as a result of the pandemic, so any money raised will be very gratefully received. On top of that, you also get the perfect motivation to stay active this September, so head to the Cancer Research UK website and sign up for the Cycle 300 challenge right now.
Sign up for workout ideas, training advice, reviews of the latest gear and more.