Great Charity Challenges For 2020: Do Good, Feel Good
Get fit while helping those in need with our round-up of fundraising challenges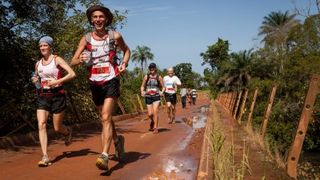 (Image credit: unknown)
It's all very well making a commitment to get fitter, but sometimes you need a little something else to spur you on. If that something is raising cash for a good cause while you hone your muscles by running up stairs, swimming in the sea or racing to the top of Snowdon under moonlight, then these charitable events might help you reach your fitness goals – and give you a pang of pride that you're doing some good, too.
While it's obviously doubtful that challenges in the next few months will take place, we've still included them because we can't predict how events will unfold. Plus, we trust that you'll check and follow public health advice and your own common sense.
Swimathon (27th-29th March)
The late March date of this pool swimming event makes it perfect to train for if you're dead set on kicking off a new fitness regime in January. You can swim a range of distances from 400m to 5K, and if even 5K isn't enough for you then there's the option of doing it three times across the event's three days. The event raises money for Cancer Research UK and the Marie Curie charity.
Sierra Leone Marathon (20th-25th May 2020)
This race winds through forests and villages in northern Sierra Leone and gives participants a chance to see first-hand how their fundraising is put to use, with visits to several sites operated by international development charity Street Child on the itinerary. If the full 42.2km seems too much, there are also half marathon, 10K and 5K events available.
Uganda Marathon (24th-31st May)
The stunning race you undertake at the end of a week in Uganda is just part of what makes this trip special, with participants able to work on the projects they have raised funds for in the days leading up to the event. The race itself is tough, with an undulating route taking place at an altitude of over 1,200m that includes a particularly savage climb known as The Beast. There are 10K and half marathon options available if the full marathon seems too daunting – and if you're on the fence about joining this trip, this nugget from the organisers might swing it: one of five participants described it as the best week of their life.
The Broadgate Tower Run Up (5th July 2020)
There are quite a few annual tower running events in the UK now, but this one distinguishes itself in a number of ways. One is that you can run for any charity of your choice. Another is that there will be elite tower runners present, so you can see how the world's best tackle stairs at speed. Perhaps most intriguing, however, is that you can climb the 877 stairs of the Broadgate Tower more than once if you wish. There are one-, three-, six- and 12-climb events, and participants in the last of those cover a full vertical mile, which has got to be worth some extra sponsorship. You can also enter as a team for the Sprint Challenge, in which three team members each do one climb, or the Everest Challenge, in which you aim to complete 60 climbs in total as a team of at least five.
Glasgow To Edinburgh Trek (25th-26th July 2020)
Trek 100km through the day and night from Glasgow to Edinburgh via the Falkirk Wheel to raise money for the British Heart Foundation. You'll be following the Union Canal for most of the 100km, and there are aid stations at regular intervals where you can grab a snack or a nap and let a medical expert patch up your feet. We did this one in 2018 and our top advice is to not take it lightly – you'll be on your feet for more than 24 hours and won't get much, if any, sleep. That's good to know, though, because it'll make you more demanding when it comes to sponsorship.
See related
Race The Sun Lake District (5th September 2020)
You have from sunrise to sunset to get through this unique triathlon, a fundraiser for Action Medical Research For Children. That works out at roughly 14 hours of daylight to complete a 64km cycle, a 3.2km canoe on Derwentwater, and a 17.7km hike to the top of Skiddaw mountain. You'll be going in a team of four, so recruit three pals and get training.
BHF London to Brighton Off-Road Bike Ride (5th September 2020)
The British Heart Foundation claims its 110km city-to-coast mountain biking pedal-pusher has it all. And since Europe's largest charity off-road cycling event includes steep forest inclines, technical descents, rocky paths and muddy single tracks, this is no exaggeration. Cough up the very reasonable £35 entry fee and raise over £100, and you not only get a marshalled route to romp over, mechanical support at all times, training tips, drinks and eats en route, and a big finishing line party, but a bloomin' massage once you hop out of your saddle, too. They're talking our language.
Register for notifications when entries open
SAMH Stomp (10th October)
Head to the BT Murrayfield Stadium in Edinburgh on World Mental Health day and tackle a stair-climbing challenge to raise money for the Scottish Association for Mental Health. There are three challenges to choose between. The Classic Stomp involves climbing 4,200 stairs, covering the south, west and north lower stands, and the lower and upper east stand. If you feel like you're selling yourself short by not covering every stair in the stadium, then opt for the Extreme Stomp, where the count rises to 7,500 stairs as you take on the Classic Stomp plus the remaining upper stands. And if 7,500 steps still seems too low then consider the Ultimate Stomp, where you do the Extreme Stomp three times over for a total of 22,500 stairs. Crivvens.
Royal Marines' Charity Commando Series (7th-8th November 2020)
Coming straight out of the Commando test book, this 6km or 12km test of endurance is littered with 18 of the toughest obstacles the UK's hardiest servicemen tackle in their training. Yep, you're right to cower in fear. There are cave crawls, mud slides and suspended river crossings to take on around Hever Castle in Kent. If you fancy going full Commando, there's the option to make it a two-dayer thanks to an ace-sounding Bivouac Experience.
Sign up for workout ideas, training advice, reviews of the latest gear and more.