Seven Great UK Charity Walks For 2021
Take a hike and raise some cash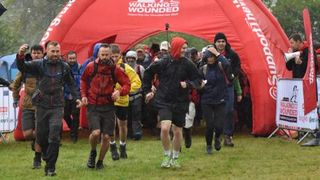 (Image credit: unknown)
Signing up for an epic challenge is a classic way to raise money for charity. But if you're intimidated by the idea of running a marathon, climbing a mountain or getting in the ring to go six rounds with your toughest workmate, there's no need to be – charity walks are a more accessible and inclusive way to push your physical limits while funding good causes.
That doesn't mean they're easy, though. In fact, a longer walk of 100km or so will be very challenging indeed. We tackled the 100km British Heart Foundation Glasgow to Edinburgh trek in 2018 and after spending almost 27 hours on our feet with 20 minutes' sleep, we can assure you it is no joke. If you're new to the long-distance walking game it might be wise to start with a marathon distance, a 50km, or a walk you can break up into several separate efforts.
It is, however, an undeniably rewarding experience to conquer such an epic distance. And because you move more slowly than you would if running or cycling, you can enjoy your surroundings and company far more.
While many walking events have been cancelled during the COVID-19 pandemic, there are ways to take part virtually, which should help you keep your motivation levels up. There are a lot of events planned for later in 2021 which we hope will go ahead as normal – although spring walks in particular are liable to be cancelled or postponed depending on the pandemic situation.
Here are our picks for the best charity walks scheduled for this year in the UK.
1. Walk All Over Cancer (March)
If you'd rather spread out your walking than take on one epic trek, sign up for this month-long challenge raising money for Cancer Research UK. The goal is to average 10,000 steps a day throughout the month of March, and it's up to you whether you do that by hitting that number each day or by racking up regular long walks, as long as you hit a total of 310,000 steps. And if that number seems like a cakewalk to you (we might walk that far for a really good cake), you can double it and aim to average 20,000 steps a day.
Sign up | Free, plus £150 fundraising
2. British Heart Foundation Easter Challenge 50 (10th April)
You can sign up to walk 25km or 50km at this event, which starts and finishes at Windsor Racecourse. Both routes take advantage of the racecourse's proximity to the Thames Path, where most of the hike takes place. If you opt for 50km you'll start with the same loop as the 25km walkers, then enjoy a free lunch at the racecourse before heading out for another 25km.
Sign up | £5-£10, plus £245-£395 fundraising
3. Jurassic Coast Challenge (15th-16th May)
You can enter the Jurassic Coast Challenge without signing up to fund a cause, but if you're going to walk 100km from Poole Harbour to Bridport, you might as well drum up some moolah for one of the event's charity partners along the way. There are also 50km and 25km walks available, but this is one where it's definitely worth tackling the full distance so you get to see as much of the astounding World Heritage Site as possible. You can take on the distance in one go, or do the 100km in two stints so you're always walking in daylight hours – the smartest pick for those looking to enjoy the views.
Sign up | £5-£99, plus £245-£595 fundraising, £79-£198 self-funded
4. Great Strides 65 Surrey Hills (12th June)
This scenic walk, which raises money for the Cystic Fibrosis Trust, involves covering 65km on foot in the Surrey Hills. That means some splendid scenery but also some uphill work, including one particularly nasty little spike at the 50km mark. We checked the route on Garmin Connect and it told us the total elevation is almost 900m, which is tough, but remember every step uphill brings you closer to both the end and some terrific views. The circular route starts and finishes on the Hampton Estate, near the village of Seale, and you need a team of between four and six people – as well as a support driver – to enter.
Sign up | £80, plus £1,000 fundraising target per team
5. Macmillan Cancer Support Mighty Hikes (Various Dates, June-September)
There are 24 events to choose from in this series, each of which involves trekking through one of the UK's most picturesque spots, including the Lake District, the Gower Peninsula and the Jurassic Coast. The hikes are either 13 miles (21.1km) or 26 miles (42.2km) long, and they run throughout the summer so you can sign up to more than one and – government guidelines permitting – treat yourself to some epic trips around the UK.
Sign up | £25 plus £250 fundraising
See related
6. Thames Path Challenge (11th-12th September)
This event allows you to choose between 25km, 50km and 100km walks, all starting at Putney Bridge. From there you follow the Thames past Hampton Court and, if you're going the longest distance, all the way out to Henley. The route is fully supported, with medics at rest stops to help care for your feet. You can pay for your place, or raise money for a partner charity to bring the cost of entry down.
Sign up | £5-£99, plus £245-£545 fundraising, or £79-£198 self-funded
7. Shine Night Walk London (25th September)
See the sights of London as you've never seen them before by walking a 10K, half marathon or full marathon around the city centre at night. Cancer Research UK, which stages this event, reckons fast walkers will get through a marathon in around nine hours while strollers will take 14. Make sure to bring glowsticks and don any neon clothing you own, because the aim is to light up the night.
Sign up | £19.99-£39.99, plus fundraising
Sign up for workout ideas, training advice, reviews of the latest gear and more.