The Best Hiking Backpacks To Carry Your Gear In Comfort
Get set for an epic adventure with these top-notch rucksacks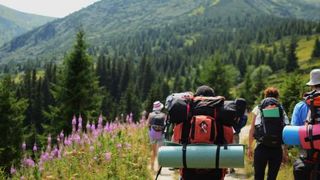 (Image credit: Unknown)
There's nothing better than heading for adventure in the great outdoors, leaving the heaving streets of civilisation behind to spend some time with nature. The only downside is that you have to take quite a lot of stuff with you when you do head out for a hike, because there isn't a shop on every corner ready to help out when you get peckish or ravaged by a sudden storm.
Before we go on to our top rucksack picks it's worth going over what features are appropriate for different types of hikes so you can find the pack that suits your needs. For advice on that we've enlisted Luke Scrine, an outdoor equipment buyer for Ellis Brigham Mountain Sports (opens in new tab).
Hiking Backpacks Buying Guide
What size backpack do you recommend for day hikes, weekend trips and multi-day treks?
Why you can trust Coach Our expert reviewers spend hours testing and comparing products and services so you can choose the best for you. Find out more about how we test.
Your typical capacities would be 15-30 litres for day hikes, 35-50 litres for weekends and 50 litres plus for multi-day trips. However, the way you pack and carry out the activity will have an effect on this. For example, if you are "fast and light" hiking with the latest lightweight gear, then the capacity you require will be smaller. If you prefer to travel in comfort and do not want to compromise on what you take then you'll need a larger capacity.
How do you work out if a backpack fits you?
A correctly fitted backpack will ensure that the majority of the pack's weight is transferred through the lumbar support and the hip belt. This allows the chest to remain open and avoids neck and back pain while encouraging an efficient walking posture.
The key factor in determining this fit is your torso length. In order to allow for the best fit possible, many backpacks come in different back sizes and/or offer adjustment of the pack's back length. That means knowing your torso length is important to allow you to select a backpack of an appropriate size. This can be done with a tape measure and a willing helper but it's best to do it at a specialist store where specific measuring tools can be used.
With the backpack's hip belt secured and fastened over your hips – not your waist – the shoulder straps should then wrap closely around your shoulders.
What are the key features to look out for?
For day hiking, the key features to look out for include a rain cover, a sleeve for a hydration bladder and external stretch pockets that provide quick-access storage.
For backpacking, essential features include a separate sleeping bag compartment at the bottom of the pack, external lash points so you can attach accessories like a roll mat, and a supportive, breathable back system to ensure carrying comfort.
How much do you need to spend, and what extra features do you get if you spend more on a premium backpack?
Again, this will vary depending on what the pack has been designed for. While you can find backpacks for day hiking for under £50, a range of £70-£90 will get you a pack that has a comprehensive feature set capable of handling more challenging hiking endeavours.
Larger backpacking models are available for under £100, but the majority from specialist brands cost between £130 and £150. For a top-of-the-range model, you can pay northwards of £200. Paying more will get you features such as additional pockets and sophisticated access options, but more importantly, will get you a backpack with a better carry system, and higher quality fabrics and components. Overall, comfort will be increased and you'll get designs that can stand up to the rigours of regular use.
See related
---
Best Hiking Daypacks
(opens in new tab)
The lightweight, comfortable Talon (men's) and Tempest (women's) series (opens in new tab) of rucksacks come in a range of sizes from nine to 44 litres so you can pick the one most suitable to your needs. We reckon the 33-litre Talon and 30-litre Tempest offer the best balance of space and size: both have compartments for hydration reservoirs and separate pockets to stash wet gear in, plus trekking pole attachment points.
Buy Talon 33 from Osprey (opens in new tab) | Buy Tempest 30 from Osprey (opens in new tab) | £140
---
(opens in new tab)
This backpack gives you a supremely secure and comfortable fit thanks to the adjustable back system and the padded shoulder and waist straps. There's also a chest strap that you can set to one of three heights, and the back is well ventilated so even if you go for a very tight fit for fast hiking (or running), you won't end up with an uncomfortably sweaty back. The main compartment is spacious, if lacking in any pockets or sections for extra organisation, though there is a small top pocket plus a pouch on the front of the rucksack for stuff you want easy access to. There is also an external hydration bladder sleeve on the back of the rucksack, although you'll have to provide your own bladder.
Buy from Montane (opens in new tab) | £90
---
(opens in new tab)
The honeycomb mesh, back padding and wide shoulder straps on this model should keep you comfortable even when moving at pace. There are plenty of adjustable straps so you can tailor the fit and compress the bag so the contents don't swill around, although at 32 litres you can cram it full with plenty of essential kit and stuff a few final extras in the pockets on the hip belt and shoulder straps.
Buy from Berghaus (opens in new tab) | £80 (currently reduced to £64)
---
(opens in new tab)
We're not going to tell you that this budget option is the match of the rucksacks from brands like Osprey listed above, either in terms of comfort or durability, but you absolutely cannot argue with the quality of this rucksack given that it costs £8. It has adjustable straps, a couple of zipped pockets and comes in a range of smart-looking designs.
Buy from Decathlon (opens in new tab) | £9.99
---
The Best Backpacks For Multi-Day Hikes
(opens in new tab)
With 65 litres of space this hefty pack has room for all the essentials, and its durable design will set you up for many years on the trails, no matter how wild you go. You can adjust the back of the bag along with the straps to fit your torso, there are bottle pockets and attachments for walking poles, and it comes with a waterproof cover.
---
Osprey is backpack royalty and its range contains numerous great hiking rucksacks, many of which are far cheaper than the men's Levity or women's Lumina. However, we just can't get over how light the Levity is at 0.87kg for a rugged 60-litre rucksack with all the features you need for long hikes, including comfortable harnesses, handy pockets and an internal hydration pocket. There's less padding than you'll get on heavier backpacks, and it's not designed to carry huge loads like those packs, but for minimalist hikers looking for a lightweight rucksack it's hard to beat.
Buy Levity from Osprey (opens in new tab) | Buy Lumina from Osprey (opens in new tab) | £200
---
Mountain Warehouse Nevis Extreme 65+15
On long trips, rucksacks that can be divided up are a huge bonus. You get the volume of both packs combined when you attach them together, plus the option of two different smaller packs when you do have a base for a couple of nights – one 15-litre rucksack for short excursions and the 65-litre pack that can take everything you need for an extended trip. The 15-litre pack in the Nevis Extreme is great for commuting too, with a laptop sleeve and a pocket with an outlet for headphones, while the larger rucksack is well cushioned and has adjustable straps to help you travel long distances in comfort, plus there are loads of pockets for organising your stuff. The rucksack comes with a waterproof cover that tucks into a pocket on the bottom.
Buy from Mountain Warehouse (opens in new tab) | £179.99 (currently reduced to £89.99)
---
Deuter Aircontact 55 + 10
(opens in new tab)
Deuter offers the AirContact rucksack in a variety of sizes, and there is also a Lite version of the backpack that sacrifices some of the padding, but the 55 + 10-litre version strikes the right balance of storage, features and weight for what most people will want for multi-day hikes. The adjustable straps and ventilated back system combine to let you fit the rucksack to your body exactly for maximum comfort.
Buy from Deuter (opens in new tab) | £190
Sign up for workout ideas, training advice, reviews of the latest gear and more.