What Are The Best Type Of Race Shoes For Runners?
Carbon plated super-shoes are undisputedly the best option for runners chasing PRs—here's why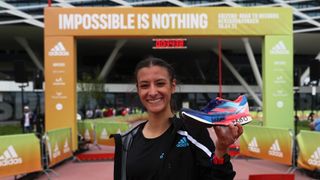 (Image credit: Maja Hitij / Getty Images for Adidas)
The best race shoes for runners used to be the simplest shoes available. Brands would strip their racing shoes down to the essential parts to make them as light as possible to avoid weighing runners down.
This all changed with the arrival of carbon plate running shoes, spearheaded by the launch of the Nike Vaporfly 4% in 2017. Now racing shoes are characterized by high stacks of soft midsole foams with carbon plates embedded in that foam. They couldn't look less like the racing flats of old.
The main drawback of lightweight flats was that they didn't offer much protection to runners' legs during long-distance events, because foam was heavy and weight was the central concern. Advances in technology mean that the modern racing shoe can have a stack height of 40mm (the limit set by World Athletics) while still being very lightweight—most carbon plate shoes weigh under 8.8oz/250g in my UK size 9, and many are under 7.8oz/220g.
All this foam softens the impact of running on the body, so the longer the race, the greater cumulative benefit modern racing shoes have. And these modern foams aren't just light, but they're also softer and bouncier than the EVA foams that were most commonly used in old racing flats. Most brands use PEBA-based or TPU foams for their racing shoes now, which return more energy than traditional EVA. Some racing shoes still use EVA, but it is now usually injected with nitrogen to make it lighter and bouncier.
The carbon plate in modern racing shoes is used to stabilize these high stacks of soft foam, as well as to add even more propulsion to your stride. This combination tends to improve running efficiency (although how much varies between people), which translates to faster times, especially in longer events like the marathon.
I have tested almost every major carbon super-shoe that has launched in the past five years, and in our round-up of the best carbon plate running shoes I've ranked the options currently available. The best race shoes for runners are all in there, because there is now little doubt that carbon super-shoes are the top option for runners at every level. If you just want a quick recommendation, then you still can't go wrong with the Nike Vaporfly—the shoe that started it all.
Super-shoes do come with downsides, including the high price and so-so durability. The bigger problem is stability, however, because runners who overpronate can find the soft foams used in most super-shoes unstable for long races. In that situation, a firmer, more stable shoe will be better—there are some carbon plate shoes that offer more stability than others, with lower stacks or firmer foams used.
Sign up for workout ideas, training advice, reviews of the latest gear and more.