How To Do Leg Push-Downs
Partner up for this effective abs exercise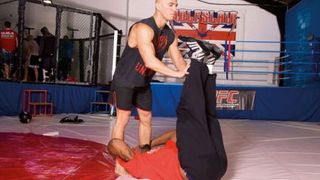 (Image credit: Future)
MMA fighters have to be prepared for pretty much anything when they step into the Octagon. Not only do they need to be strong and fast with a rock-solid core, they need agility and endurance to overcome their opponents.
Strength and conditioning coach Zach Light, who has trained former UFC champion Quinton "Rampage" Jackson among others, put together a UFC workout that uses the kind of explosive exercises his fighters do in training every day, one of which is the leg push-down. Enlist a partner and try this abs exercise on your next gym visit – it's one of the best core exercises you're probably not doing.
Benefits Of Leg Push-Downs
For one, it's fun to work out with a partner in this way. Compare leg push-downs with leg raises, where you work alone and grind through a set. With push-downs you're getting a more varied move and the excitement of someone pushing your legs down at random. And then you get to do it to them!
More material benefits are found in increased core strength, with both the abs and obliques involved in the move since you are working at different angles.
How To Do Leg Push-Downs
Lie flat on your back on the floor, with your partner standing behind you with their legs either side of your head. Reach back and grasp one of their legs with each hand, then lift your legs for them to grab, keeping your feet together and your legs as straight as possible.
From there resist your partner as they throw your legs down in different directions, lifting your legs back up to them after each push-down. Make sure that you get a nice mix of left, right and straight push-downs in each set to work the obliques on each side as well as your central abs.
If you have an incredibly strong core already, to the point where your partner can't push your legs down at all, maybe don't try too hard to resist them – the idea is for your legs to go down so you can raise them again.
Sign up for workout ideas, training advice, reviews of the latest gear and more.