Callum Hawkins On The Importance Of Having Mini-Goals In Your Marathon Training
One of Team GB's top distance runners gives us his advice on training for and racing the marathon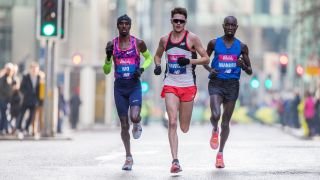 (Image credit: Courtesy New Balance)
It takes a long time to train for a marathon, and trying to stay engaged for a full marathon training plan isn't the easiest thing to do, even if you're an elite runner.
"If you have a goal that's too far away, you sometimes just go through the motions," says Team GB marathon runner and New Balance ambassador Callum Hawkins. "Sometimes you don't push yourself in training to the degree that you need to. I think breaking it up and having mini-goals keeps the motivation high and keeps you having fun."
We spoke to Hawkins at the launch of New Balance's Runlock campaign on Strava, which asks people to run 30km in 30 days to earn a chance of winning prizes including a place at the 2023 New York City Marathon.
What are the most common mistakes people make with marathon training and racing?
I think it's not starting training early enough, then trying to cram it all in – it's quite a long process. And then starting too quickly in the race!
Do you have any tips for long runs?
Pick a route you like to do, and get a team-mate or friend who can help you get through it. Try to vary it. Sometimes I'll plan a Sunday session with sections of different paces – that can help break up the distance.
Should you do other races during your training?
I do a half marathon block first in the marathon build-up. I get a half marathon in to see where the fitness is, but also it helps break up the marathon training, because it can be quite long. I usually do 16 weeks and having another race keeps you interested, it gives you a mini-goal.
Do you do much cross-training outside of running?
Mostly I just do running outside. I've done a lot of cross-training the last couple of years while I've been injured, and it's something we might bring back into the routine when I'm back fully fit. I've noticed some people my dad coaches do more cross-training, and it seems to work well.
Do you do much trail running during your training?
I'm usually on a cycle path for most of my runs, but every Saturday I do a hilly run on country roads – that's 1,000ft of climbing and descending – to work on leg strength. When I go to altitude I'll do a bit more on trails.
What's the best bit of advice you've had for the marathon?
[Former marathon world record holder] Steve Jones just said to believe in yourself on the day. You've done the hard work, just go and do it. Don't think about it too much! Have a plan, and stick to that. I usually have a rough time in mind for halfway, and then just go for it.
Do you do lots of training in carbon-plated shoes?
No, I save them for racing. You can't be going fast all the time! It's best to mix it up, for feet and leg strength. I use the Fresh Foam More v4 a lot. It's nice and plush. I like a big, comfy shoe.
Sign up for workout ideas, training advice, reviews of the latest gear and more.