How Long Does It Take To Train For A Marathon?
Expert advice from elite runner and coach Steph Twell on how to approach your marathon training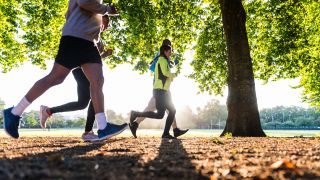 (Image credit: Getty Images)
Training for and running a marathon can be one of the most rewarding things you'll ever do. Ticking off your training week in, week out, over several months is great for your physical and mental health, and the sense of accomplishment when crossing the finish line on race day is hard to top.
Having a good marathon training plan is essential to ensure all that training returns as much benefit as possible and you do yourself justice on race day. Olympic marathon runner and coach Steph Twell has launched a 12-week digital training camp in partnership with run coaching platform Onetrack to help people prepare for autumn marathons: Twell herself is training for the London Marathon on October 2nd so you can mirror her efforts – scaled back to suit all abilities, of course.
It costs £195 to join Steph Twell's marathon training camp, which starts on Monday 11th July and includes virtual and in-person meet ups with Twell and your fellow marathoners. We spoke to Twell ahead of the plan's start date to get her expert take on what it takes to train for a marathon.
How long does it take to train for a marathon?
In my opinion a three-month block is the minimum you need. People typically go for between 12 and 16 weeks. The training will demand a lot of you so it can't be too extended, otherwise you can get fatigued. I can't be doing marathon training all year round because my body would not get the stimulus from it. That's why 12 to 16 weeks is quite standard.
Can a complete beginner train for a marathon in three months?
Definitely. I think it is possible for everyone to train for a marathon in three months, even from an entry level. The caveat is that you just have to align your expectations with your goals. Getting around the distance – I absolutely believe everyone can do that.
How much do you have to train each day and week?
Elite athletes will train sometimes more than once a day, but I'm someone who has many jobs in the background and I think realistically training once a day is achievable in a 12-week build-up.
That first four weeks, you're building your ability to tolerate fatigue. So it is OK to run six out of seven days and have a rest day. Then in weeks four to eight I would swap out that rest day for something light to keep you active, like a cycle or something non-weight-bearing like swimming or the cross-trainer. Then in that last month you want to have adjusted to that tolerance of fatigue and have improved your training capacity.
You have to listen to your body because the most important thing is getting to the start line healthy. But it's also about not listening to your body too much and respecting that in marathon training, actually getting out there even when you're fatigued is the adaptation that you're looking for. The bit you have to overcome is accepting fatigue, knowing that your body is going to be tired, but equally still getting through it and consistently stringing together sessions that are going to build your stamina.
Can you train for a marathon by running three times a week?
The three-times-a-week model is possible, but your goals will have to align with that. With my plan I've created core sessions which participants can modify according to what they want to achieve. So there's an A-star session, but if you can only get the B-plus session done, that's still a tick because it's better than doing nothing.
It's going to be a hard approach to manage, but I'm coaching to give the participants that independence to know what they need to get done. If it's an interval session, a long run, and maybe two steady-state runs in a week, they could adapt the programme to flip a steady run to cycling to work.
What are the different types of runs you should do for marathon training?
It's really important to have different speeds across the week. If we go down to three simple types of runs the first would be interval running or Fartlek. Then for the marathon, the keystone is the long slow run: building that aerobic conditioning is going to be the biggest bit to get you round on race day. And to keep it simple it's then maintenance runs, so recovery or steady-state running, in between those main units of training.
Should you do anything else alongside your running?
Absolutely. I'm a big advocate of strength and conditioning. You need to get to the start line healthy so you need to consistently strengthen your muscles. Twice a week is ideal, but even strength training once a week resets your body. It activates the muscles that can become switched off in marathon training.
Then work on your mobility too. If you can't get to a physio then do a yoga session once a week. Or just stretch when you can in front of the telly.
How does following a training plan help?
Having a plan puts you in the right mindset to take on the challenge in the first place, and it's important to be organised. It helps that you don't have to think too much about what you have to do that day, or what the week looks like. It is shaped for you by a coach like me. I think it also can make you accountable. And when you get closer to the goal race day, you can look back and see that consistent training you've ticked off.
Sign up for Steph Twell's Marathon Training Camp
Sign up for workout ideas, training advice, reviews of the latest gear and more.