"Focus On What You Can Do, Not What You Can't": How To Get Into Exercise If You Have A Disability
Fitness instructor Jay Moir gives the benefit of his experience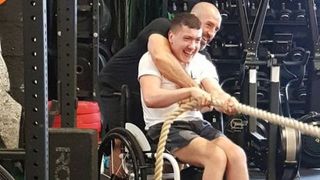 (Image credit: Unknown)
Almost everyone finds their first few visits to the gym a little daunting. Even if you're confident about your fitness, heading to a new space to train in front of other people is intimidating, and that feeling is likely to be heightened if you have a disability.
Jay Moir is a wheelchair user with cerebral palsy who decided to start going to the gym after gaining weight. Since then, Moir has lost almost five stone and qualified as a fitness instructor, and he has also found that his mental health has improved along with his physical fitness.
We spoke to Moir to ask for his advice for people with a disability looking to start hitting the gym more regularly.
How did you get into exercise?
I got into fitness three years ago after gaining over three stone in weight. I downloaded MyFitnessPal and this allowed me to see where I was going wrong with my diet. I also started attending the gym six days a week, focusing on strength and mild cardio, and with this combination I managed to lose just under five stone in just over a year.
Did you try a few types of exercise before picking your favourites?
I played wheelchair basketball for a couple years, but I struggled to concentrate on it because I was so focused on my training in the gym, so decided to quit basketball and just dedicate all of my time to getting stronger and training hard.
What challenges does having cerebral palsy lead to when working out? How do you overcome them?
I'm fortunate enough that I'm able to get out of my chair and onto the machines in the gym, so it's not like I really find anything a struggle – I just train like everyone else. But if I do come across a barrier, I just think about what the exercise is, what muscle group it works and what I can substitute in instead.
What advice do you have for people with a disability looking to get into exercise?
Focus on what you can do, not what you can't. You don't have to lift great big heavy weights – just do what feels best or most comfortable for you, and I guarantee you that those feelgood endorphins will start flowing.
My biggest fear about going to the gym was being "the guy in the wheelchair", but I soon discovered that everybody in the gym is there for their own reasons and they aren't going to judge you. If anything, they will praise you and most likely offer assistance if required.
How important is it for you to exercise regularly? Does it help with your mental health as well?
It is very important for me to train daily. If I don't I feel terrible, tired, uncomfortable and just drained. So I always make sure that I train, regardless of whether I'm in the mood or not because it always makes me feel amazing afterwards and I know my body will thank me in the long run.
See related
What made you keen to become a qualified trainer?
Becoming an instructor was important to me because going to the gym changed my life. If I can pass on my knowledge and experience, and give people the tools to get themselves in a better position both physically and mentally, then I believe I could help a lot of people – both able-bodied and those with disabilities.
I also decided to post my workouts and my journey on my blog and my Instagram simply to document it for myself as well as sharing it with others. If people take something positive from my content then all the better!
Sign up for workout ideas, training advice, reviews of the latest gear and more.