How Sport Can Help Young People Transform Their Lives
And how you can help support charity Access Sport to do just that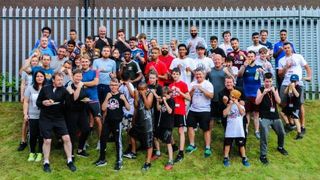 (Image credit: Unknown)
For many of us, sport is a pastime, something we love to do that gets us fitter and allows for a break from the day-to-day concerns of life. However, sport can do a whole lot more than that. It can transform lives, and charity Access Sport is all about harnessing that power to help disadvantaged kids get a break.
Access Sport's main work is in providing access to sport (the clue really is in the name there). The charity focuses on helping children with disabilities and in deprived communities in particular by developing community clubs, training volunteers and creating links with local communities.
An example is the work it does with Moss Side Fire Station Boxing Club in Manchester. Some of the young men in the club were on a path to gang crime but have been moved on to the fast track to sporting glory. One such person is Conner Tudsbury, who is a three-time British champion, and a medallist at both the World and European Youth Championships. He also now provides coaching for teenagers excluded from education.
The work Access Sport does with the Moss Side club also includes its Young Leaders Academy, which trains young people to become community leaders who can go on and help others.
See related
In the current lockdown situation, the focus of the charity has switched slightly. Members of the club have been delivering food packages to families in its community, in collaboration with the Maverick Stars Trust, Manchester Mind and the Angus Irvine Playing Fields Fund. Access Sport is providing additional funding to support this work.
You can help support these efforts too, either by donating to Access Sport directly or by taking part in the #UnlimitedAccess challenge. To do the latter you need to learn a simple – and short – workout routine, which is set to the Dua Lipa song "Physical", then share a video of yourself doing the workout and tagging three friends to do the same. To round off the challenge, you can donate £1 to Access Sport either online or by texting "UnlimitedAccess" to 70085.
The list of exercises involved in the challenge is below and you can see Olympic gold medallist Greg Searle completing it on Instagram.
Squat x 2
Squat to knees x 1
Jumping jack x 2
Plank with shoulder tap x 1
Sign up for workout ideas, training advice, reviews of the latest gear and more.