How To Return To The Gym Safely And Effectively
Use this expert advice from two personal trainers to ease back into your workout routine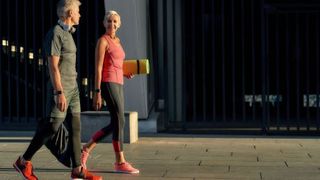 (Image credit: Unknown)
Assuming the roadmap out of lockdown goes to plan, gyms in England are due to reopen on 12th April (with Scotland scheduled to follow on 26th April, although no date has been set for Wales or Northern Ireland). This means the morning of 13th April is likely to see millions across England laid low with DOMS as people feel the effects of their first gym workout in months.
It's worth trying to avoid being one of those people. Even if you have been keeping up a regular exercise routine at home, it's wise to ease back into your gym sessions since you're likely to be lifting heavier weights (unless you have a very well-stocked home gym). And if you haven't been working out at home we strongly urge you not to go in all guns blazing. The after-effects will not be pleasant.
To help you return to the gym in the smartest manner possible, we enlisted Sam Gregory, head trainer at F45 Stratford, and Haydn Elliott, head trainer of F45 Oxford Circus (opens in new tab) and F45 Soho (opens in new tab), for their advice.
Increase Your Movement Now
"In preparation for gyms to reopen it is important to start getting up and being more active," says Elliott. "People have been a lot more sedentary for longer periods of time than they would have usually. A short 20- to 25-minute workout is good, but I think right now it's more about getting the body moving more frequently than adding large amounts of intense training.
"It could be walking, mobility stretching or anything that will help your body ease away from the fairly restricted movement patterns we have been accustomed to."
Set Realistic Goals
"If you were exercising around six times a week before the pandemic, I would advise easing yourself in and setting a target of three workouts a week," says Gregory. "This will build your fitness levels back up so you can get back to the way you were training previously.
"If the thought of gyms opening up again is daunting because you don't feel fit enough or ready to go back, set mini goals such as going to the gym for just 10 minutes. Once you get back into the rhythm, you will feel great and be ready to do a full workout."
Lower The Weight And Don't Give 100%
"Don't try to lift the same weight you were lifting beforehand, especially if you haven't done any training over the lockdown," says Gregory. "Go back to basics, making sure you warm up properly, so that you are ready to lift, jump and squat."
"Hold off from giving your workouts 100% initially, particularly in the first week," says Elliott, "because your body is going to really feel it."
Ask For Help
"Whether it be a personal trainer or at a group exercise class, get some guidance and help to get you back into the gym – this will help you get the most out of your time and get you back on track," says Gregory.
See related
Prioritise Recovery And Sleep
"Be aware of your recovery during this initial period," says Elliott. "Try classes that are low-intensity. Slow and controlled sessions with an emphasis on postural awareness and body alignment will ensure your body fully recovers when you return to working out.
"With a return to more intense training structures, you must also focus on getting seven to nine hours of good-quality sleep. Ensure that you are properly hydrating with several litres of water a day as well, and nourish your body with adequate protein intake."
Leave Your Pride At The Door
"I would give this same advice to people who have never worked out before as well," says Elliott. "People have been fairly inactive throughout the lockdowns, so everyone is starting their own journey again. Now is the time to leave your pride at the door and try to enjoy the process rather than getting too focused on aesthetics."
Sign up for workout ideas, training advice, the latest gear and more.