Retired Rugby Legend Dan Carter Now Has No More Time To Train Than You Do. Here's How He Stays Fit
The former All Black is now an ambassador for F45 and fits its HIIT sessions in around his family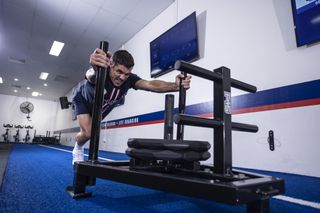 (Image credit: Sean Condon)
Training regularly can be a challenge no matter who you are and what job you do, unless your job is a professional athlete, in which case you just need to show up for work.
That means it's interesting to speak to sports stars after they retire to see how they maintain their fitness without coaches, teammates and the incentive of regularly having to perform spurring them on.
Dan Carter is one of the greatest rugby players of all time. He won two World Cups with New Zealand and scored more points than anyone else in the history of test match rugby. As you can imagine, the training was intense. (To delve into how intense, read our interview with the team's head S&C coach about All Blacks' training.)
Since retiring Carter has become an ambassador for functional fitness studio chain F45. We spoke to him about how the F45's HIIT workouts differ from his training during his playing days.
What kind of training did you do as a rugby player, and how is functional fitness different?
Rugby involves a lot of stop-start training. We used to do a lot of interval training, because rugby is run for 30 seconds, have a break at a scrum or line-out, then run for 45 seconds. So we did a lot of interval training, and then you bring in your power and strength work in the gym as well.
Functional training is a combination of all the training that we'd done, put together in one session. We didn't do a lot of it while playing but having recently retired, it's great.
You can go at your own rate and push as hard as you want, but you're going to get your heart rate up, and you're going to get a sweat on.
Has it been harder to stay fit after retiring?
When you're a professional sports person, you're on quite a strict training programme. I've recently retired, and having four children, you don't have a whole lot of time. But I know and understand the importance of fitness and health, and staying fit is a huge part of life for me. So having sessions that are only 45 minutes, that get your heart rate up and include a bit of strength work… it helps you get in the exercise that you need if you don't have the time to sit in a gym for two hours like I used to as a professional rugby player.
Do you still get competitive in the sessions?
Absolutely. When I finished playing rugby, I went to the gym, and I did similar programmes as what I was doing as a rugby player. It was lonely. I needed to train alongside people. It was something I missed from the team environment. Then naturally, with F45 classes, I found myself starting to compete.
Last week, there's a guy next to me and we were seeing who could go at it more. I love that about group sessions. You find yourself starting to compete and competing with yourself, like "I'm going to try and get more reps or push the limits more". There's a competitive nature that I wasn't getting as much when I was training by myself at the gym.
---
F45 Workouts To Try
As well as sweating through plenty of F45 classes ourselves, trainers from F45 studios have shared routines you can try.
Sign up for workout ideas, training advice, reviews of the latest gear and more.