Training Advice From The All Blacks' Head S&C Coach
Whatever your favourite sport is, there are lessons to be learned from the New Zealand rugby union team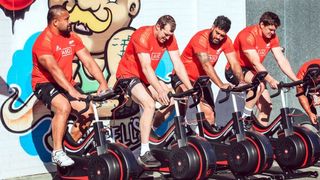 (Image credit: Unknown)
Unless you're very new to the world of rugby, you don't need us to tell you how good the All Blacks are. They are the most dominant team in the history of rugby union, and have a winning record against every other nation in the world, which can only be described as solid.
A crucial component of that success is a rigorous training regime, and one of the men behind the strength and conditioning part is Nic Gill, head strength and conditioning coach for the All Blacks. To gain some insight into the team's training regime, we spoke to Gill following the announcement of Wattbike's partnership with the All Blacks.
What does a typical training week look like?
The games are sort of 100 minutes in duration. There's a bit of endurance required, lots of strength, and lots of repeat high-intensity efforts. The training week reflects those needs. We have a strength focus early in the week, or power concurrent with endurance. Then later in the week, we go for a speed, power, anaerobic-type focus.
We go heavy and slow through to short, light and fast, almost like a weekly taper, because we're trying to peak every Saturday.
Do you do double training session days regularly?
Double days are on Monday, Tuesday, and Thursday – we have a gym session and then a field session. They are generally focusing on strength and off-feet conditioning in the gym, and then on the field we're focusing on becoming better rugby players.
How much does training differ for players in different positions?
Everyone's got to be strong, because of the nature of the game. You're having these big collisions with big people and if you're not strong you come off second best, and next minute you're out for six months. Generally speaking, the core lifts are hip-dominant exercises like a squat or a deadlift, and then plenty of shoulder-oriented, push/pull exercises.
Sprinkled among all of that are individualised things, whether that's for speed, power, agility, injury prevention such as calf strength or ankle mobility. Everyone has a different role on the field, and that's reflected by the little tweaks within the programme, but whether you're a prop or a halfback, you need to be strong.
How do you build strength endurance?
Typically, we're lifting week in, week out. We're getting strong and the purpose of getting strong is to create force. Then we're trying to produce that force quickly. And then we need to do it 50 times. So we practise. We squat to get strong, then we jump to get explosive. And then we do repeat sprints on a Wattbike, or on the field. Or we do both. That's the lower-body side of things.
How do you use the Wattbike to support sports training?
If you're in a sport that requires any form of changes in intensity – so think about a player who is running a lot and having bursts of high-intensity effort – then you can design a Wattbike session that reflects that. You have easy periods of cycling with good leg speed, a cadence of 80-100RPM, but it's low-effort. And then you ramp up the resistance and put in a sprint.
We do the same. If you're a back and the average duration of your efforts is six seconds, then we do six-second efforts on the Wattbike. If between efforts you're standing still, and recovering, that's what we do on the Wattbike, but if you're actually moving between efforts, then we replicate that on the bike.
Can you give some examples of Wattbike sessions you do?
On Tuesday, I had a group of guys do 10 minutes including 20 maximal sprints.
Then on Sunday last week, I had a group of 11 players do a 45-minute session, which was all different types of effort duration – five-minute efforts, five-second efforts, one-minute efforts, 30-second efforts. Replicating the game, and intensity and duration of efforts required.
Yesterday I just had a guy do 25km on a Wattbike. I don't know how long it took him. He just dislocated his elbow, so he's injured and he did 25km instead of a gym session.
See related
Do you have any tips for recovery on double days?
If we had four hours between sessions, which is what we have normally, it would be nutrition, and some form of recovery activity based on what you've done already and what you're going to do next. Like ice or a stretch. If it's not possible, then a nap would be great. We absolutely encourage napping. Then the last thing is making sure you give yourself enough time to warm up for the next session.
For those who want to try an All Blacks-style Wattbike session, Gill has created a workout on the Wattbike Hub app called The Hurt Box. Give it a go before midnight on Sunday 21st November for the chance to win an All Blacks jersey.
Sign up for workout ideas, training advice, reviews of the latest gear and more.