The Best Face Masks For Exercise
If you want to cover your face while working out, it's worth investing in a breathable sports mask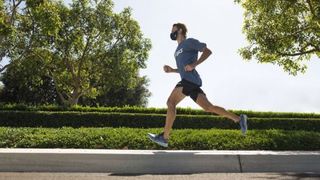 (Image credit: Unknown)
We won't sugar-coat it: working out while wearing a mask is not a great deal of fun, even when using a dedicated sports mask. However, you may well want to go the extra mile to protect those around you when out running or in the gym, just in case you are an asymptomatic carrier of COVID-19. Or perhaps you plan on travelling to a country where it's mandatory to wear a face covering in gyms.
Masks made for sport tend to be more comfortable to use in settings where wearing a mask is compulsory, since they're designed to be breathable and sweat-wicking without lessening the protection for others on offer, and they're generally easy to clean and re-use as well.
Your other option is to use a snood that you can pull up over your mouth when close to other people during your workout. However, the looser fit of a snood will make them less effective than masks for protecting others, especially during vigorous workouts.
---
The Best Face Masks For Your Workouts
This washable mask is clearly not designed to provide medical-grade protection, since there are mesh sections to increase airflow, but it will help to prevent droplets flying from your mouth all over the place during runs and other workouts. It's the most comfortable and breathable mask we've worn during exercise, with structured material that leaves more room in front of your mouth and nose than you get from a standard cloth mask, while the adjustable fit means you can get a tight seal quickly by pulling on the toggle.
Buy from Asics | £35
---
Lululemon Double Strap Face Mask
The main upgrade to a standard cloth face cover here is the Ultralu fabric used, which is stretchy, sweat-wicking and quick-drying. The fit is pretty similar to a normal mask, though the central seam does slightly raise the mask off your nose and mouth for more comfortable breathing during workouts.
Buy from Lululemon | £10
---
AirPop Active+ Halo Smart
The Halo Smart mask provides a comfortable fit with plenty of room under the main cover, though this room does disappear if you attach a filter to the mask for extra protection from pollution. However, the reason it costs £150 is the smart sensor that sits in the mask and tells you how much pollution you're breathing in (or not breathing in, if the filter is catching it for you). The sensor connects to the AirPop to deliver the details on the air around you, and you can track your exercise through the app to see exactly how good or bad the pollution is.
Buy from AirPop | £149.99
---
See related
There are three layers to this mask, each designed to make it comfortable and protective during exercise. The outer layer is made from a water-repellent fabric and has structured sections to lift the material away from your mouth and nose. The foam middle layer is designed to let air pass through while blocking moisture, and the inner layer is made from Under Armour's cooling Iso-Chill fabric to stop you getting too hot and sweaty under the mask during workouts. The mask is washable and comes in several sizes to help you get a good fit.
Buy from Under Armour | £26
---
This mask has copper woven into the fabric, which actively kills microbes, if you're looking to step up your war on the air around you. The MICRONET filter fabric blocks pollen as well, giving this mask an added benefit for hay fever sufferers.
Sign up for workout ideas, training advice, reviews of the latest gear and more.