Are You The Kind Of Runner Who Would Benefit From A Running Shoe Rotation?
Owning more than one pair of running shoes can benefit your running and make the shoes last longer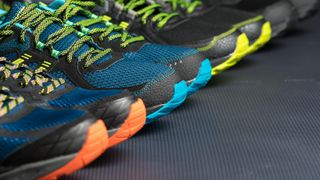 (Image credit: iStock / Getty Images Plus / Rupert Weidemann)
When you first start running, splashing out on one pair of shoes can feel very expensive. The best running shoes cost three figures so the idea of picking up two or three pairs to build a running rotation might seem fanciful.
However, once you start running regularly, a running shoe rotation can make more sense, because using a few different pairs of shoes each week is good for both you and the shoes. Here's what you need to know.
What is a running shoe rotation?
Having a running shoe rotation means that you have more than one pair in use at a time, so you don't use the same shoe for every run you do.
Do you need a running shoe rotation?
If you're running for fitness and taking at least a day off between your runs, there's probably no need to use a shoe rotation. Once you start running more regularly or start working towards performance goals, then having a rotation quickly becomes worthwhile.
What are the benefits of a running shoe rotation?
Some running shoes are built for a particular purpose, and with a rotation you can match the shoe to the right type of run. For instance, you can use more comfortable shoes for easy runs, and firmer, faster ones for speed sessions.
Owning a couple of pairs of shoes also means that people who run every day don't have to use the same shoe for back-to-back runs, which allows more time for the foam in the shoe's midsole to recover.
Running shoes usually have soft foams in the midsole that compress a little over the course of a run. The foam gradually expands again when the shoe is not in use, and if you can give it a day or two before using the shoe again it will ensure the foam is at its best again.
This can extend the overall lifespan of the shoes, which could result in your running shoe rotation saving you money in the long term. That's especially true if you know how to look after running shoes properly and don't stick them in the washing machine.
Giving one pair of shoes a day or two off is also valuable in winter when your shoes get wet and mucky. Letting your shoe dry will not only mean a more pleasant experience for you – stepping into a wet shoe at the start of a run is not fun – but also means the shoe isn't taking a beating while wet, which can pull the upper out of shape.
Does rotating running shoes prevent injury?
The other big benefit of using a shoe rotation is that it can reduce your risk of getting injured. Running is a high-impact sport, but using shoes with different foams in the midsole, different shapes and different heel-to-toe drops changes the forces going through your body subtly. This can reduce the loads on your muscles depending on the type of run. When we asked an expert whether running is bad for your knees, one of his top tips to avoid injury was a shoe rotation.
"You don't want to use one pair of running shoes," says professor Paul Lee, medical director at MSK Doctors and an orthopaedic surgeon. "Get different styles of shoes, have a mix of brands, so when you run, you challenge your whole-body biomechanics slightly differently. It will reduce the chance of you getting repetitive strain injuries."
How many pairs of running shoes should you rotate?
If you're just looking to vary the impact on your body and give your shoes a chance to bounce back between runs, using two sets in a rotation will work. Aim to get versatile cushioned shoes that are comfortable but still enjoyable to use for faster runs.
Once you start thinking about performance, a rotation of three is common for road running – a cushioned shoe for easy runs, a faster daily trainer for speed and tempo sessions, and a racing shoe.
It's easy to keep expanding your rotation with shoes for other uses too. A shoe with an outsole that can handle light trails is useful, as is a shoe with added stability elements. If you do different types of runs constantly then in theory the sky's the limit with rotation, but somewhere between two and four pairs is usually the sweet spot.
What are the types of running shoes that fit in a rotation?
There's a lot of overlap between running shoes, especially because modern foams are so light that you can have a very cushioned shoe that's still pretty speedy and versatile. However, the traditional types of running shoe to consider are:
A daily trainer that is cushioned and comfortable but still has enough speed for faster runs.
A cushioned shoe that's primarily built to be comfortable on easy and long runs, and so is usually a little heavy and awkward for fast runs. For newer runners, a max-cushioned shoe is also a great option as a daily trainer.
A racing shoe, which these days tends to mean one of the best carbon plate running shoes like the Nike Vaporfly. You can tailor your racing shoe towards the event you focus on, such as a more cushioned carbon shoe for the marathon, or a lighter one for 5K and 10K.
A fast training shoe is not essential if you have a versatile daily trainer, or are happy to use your racing shoe for sessions, but it's a nice extra to have for interval sessions and tempo runs. This will also let you save your racing shoe for race day, which can be wise because racing shoes tend to be less durable than fast training shoes.
Stability shoes are designed to counter overpronation on the run, and they come in various forms offering different amounts of support, cushioning and speed. If you're not sure if you need a stability shoe, getting gait analysis can help identify if you overpronate.
A trail shoe. This opens up a whole new can of worms, since the best trail-running shoes will be tailored to the surface you're running on and the distances you tend to cover. A road-to-trail shoe is often useful, though, since it will be comfortable on the road but provide extra grip on light trails like park paths or canal towpaths.
Sign up for workout ideas, training advice, reviews of the latest gear and more.