Best On Running Shoes 2023
From cushioned cruisers to carbon plated speedsters, the best On running shoes cover all the bases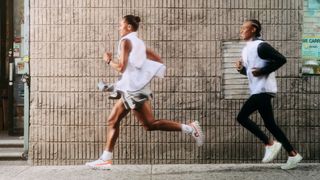 (Image credit: On)
On's range of running shoes is smaller than that of many rival brands. However, it can be confusing to pick between them, which is because nearly every one of its shoes has the word "cloud" in its name (and On only started numbering the different generations of the shoes this year).
In case you are confused, there is an On running shoe to suit just about every purpose, and 2023 has featured the launch of some excellent On shoes. Among them is the Cloudboom Echo 3 carbon plate running shoe and the Cloudsurfer daily trainer, which is one of the best running shoes. Below, you'll find the top options available if you're looking to add an On shoe to your running-shoe rotation.
How I Test On Running Shoes
I run around 50-70 miles a week and aim to log at least 30 miles in a shoe before I review it for Coach. I test shoes with runs suited to their purpose, so I've competed in races wearing the Cloudboom Echo 3 and completed easy runs in the Cloudmonster, for example. I have tested most of the road running shoes in On's range.
Best On Running Shoes
Best daily trainer
Specifications
Weight:
8.7oz / 246g (UK 9)
Reasons to buy
+
Enjoyable, comfortable ride
+
Stylish design
+
Excellent upper
+
Light
Reasons to avoid
-
Durability may be a concern
-
Minimal outsole rubber
-
Squeaks
The Cloudsurfer is a major departure from On's standard approach to cushioned shoes, offering a much softer ride with a smooth transition from heel to toe thanks to the CloudTec Phase midsole design. This still has On's signature pods in it, but the holes are smaller and shaped to collapse into each other, like dominos, to create the smooth ride.
I loved using the Cloudsurfer for easy and steady daily training runs, and it's a light shoe too, so you can pick up the pace in it even though it doesn't have the Speedboard that's in the midsole of most On shoes. The Cloudsurfer may not be as durable as the Cloudmonster because of its softer foam and minimal outsole, and it also squeaks at times, but it has the most enjoyable ride of any On shoe.
Read more in my On Cloudsurfer review
---
Best cushioned shoe
Specifications
Weight:
10.0oz / 284g (UK 9)
Reasons to buy
+
Impressive cushioning to protect legs
+
Good-looking design
+
More stable than many max-stacked shoes
Reasons to avoid
-
Not as soft as alternatives
-
Cheaper options available
The Cloudmonster is not as soft and squishy as most cushioned shoes, or even the Cloudsurfer, but it's comfortable and protects the legs well over long runs. The Speedboard in the midsole and the rocker design help you to tick over at easy paces, while making the Cloudmonster versatile for a cushioned shoe—even if it's not well suited to all-out speedwork.
This isn't designed to be a stability shoe, yet I found the Cloudmonster to be naturally stable. It's a good-looking shoe for wearing outside your runs as well, which is a benefit of most On shoes. I prefer the feel of the Cloudsurfer for most runs, but if you like a firmer midsole then the Cloudmonster is the better pick of the pair, and is particularly good for easy long runs.
Read more in my On Cloudmonster review
---
Best racing shoe
Specifications
Weight:
7.9oz / 223g (UK 9)
Stack:
38mm heel, 28.5mm forefoot
Reasons to buy
+
Pebax foam midsole
+
Comfortable, fast ride
+
Lightweight
Reasons to avoid
-
Expensive, even for a super-shoe
-
Outsole durability
Until 2023 On didn't have a carbon racing shoe fit to rival the best on the market. Previous versions of the Cloudboom were firm and lacked the propulsive benefits of shoes like the Nike Vaporfly. Fortunately, On came up trumps with the third generation of the shoe, which now has a Pebax foam midsole and a higher stack, along with a pronounced rocker and a full-length carbon plate.
The Cloudboom Echo 3 is undeniably fast and offers comfort for long road races while being lightweight and nippy enough for 5Ks too. The main cons are its high price and lack of durability—the outsole rubber on the heel of the shoe is flaking off my Echo 3 after around 50 miles, a problem that seems common with the shoe.
Read more in my On Cloudboom Echo 3 review
---
On Cloudvista
Best road-to-trail shoe
Specifications
Weight:
10.4oz / 294g (UK 9)
Reasons to buy
+
Comfortable
+
Good-looking
+
Grips well on road and light trails
Reasons to avoid
-
Not great for fast running
-
Outsole can trap debris
The Cloudvista is built to handle both road and light trail-running, with an outsole that has shallow, flat lugs that won't grip well in deep mud but are comfortable and provide traction on dry, hard trails. I found it a comfortable shoe that's great for cruising through easy runs where you want to take in a couple of parks or other trails, along with long sections on the road. Once again, it's a bit of a looker, though it probably won't stay that way long if you're using it off-road regularly.
Sign up for workout ideas, training advice, reviews of the latest gear and more.