The Nike Alphafly 3 Will Be Available In January 2024
The world-record breaking Nike Alphafly 3 will go on general sale early next year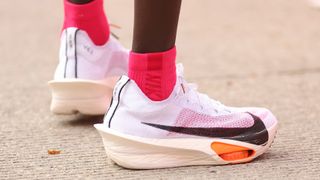 (Image credit: Michael Reaves / Getty Images)
Adidas stole the show at the Berlin Marathon this year, with Tigist Assefa breaking the women's world record with an unbelievable run in the brand's new Adidas Adizero Pro Evo 1 shoe. It was a run so impressive that it managed to overshadow Eliud Kipchoge winning the men's race in the Nike Alphafly 3 prototype.
Nike came back strong at the Chicago Marathon, however, with Kelvin Kiptum storming to new men's world record of 2hr 0min 35sec, and Sifan Hassan running the second-fastest women's marathon of all-time, both while wearing the Nike Alphafly 3.
Keen to make the most of those historic runs, Nike has announced that the Nike Alphafly 3 will be launching in January 2024.
It's an unusual move from Nike to announce a shoe so far in advance like this, and it might be prompted by the launch of Adidas's $500/£400 Pro Evo 1 shoe, which is perhaps the biggest threat to Nike's dominance of the racing shoe market since the launch of the original Nike Vaporfly.
There's little doubt that the Nike Alphafly 3 will be one of the best carbon plate running shoes when it does launch next year. The original Nike Alphafly NEXT% and Nike Alphafly NEXT% 2 were both among the top marathon running shoes available, and the improvements made to the Nike Vaporfly 3, which launched this year, established it in my opinion as the best racing shoe available.
The Alphafly has generally been a marathon-focused shoe, and the Alphafly 3's results at that distance are already hard to argue with, with Kiptum, Hassan and Kipchoge all logging World Marathon Major wins and exceptional times. The Alphafly 3 prototype has been spotted in various guises on the feet of elites throughout 2023, but in Berlin and Chicago it looked like the pros were using the final form of the shoe in the white and orange colorway Nike usually launches its racing shoes in.
So far Nike has not given any details on the updates made to the Alphafly 3, but it has a sleeker look than the Alphafly 2, without the decoupled midsole. The large point at the back of the shoe has been trimmed down, and this might point to it being a lighter shoe, always a welcome update with racing shoes.
For now I can only speculate about the shoe, and that goes for its price too—the Alphafly 2 costs $275/£280, but with Adidas launching a $500/£400 shoe it's likely that the Alphafly 3 will have at least a small rise in price.
Sign up for workout ideas, training advice, reviews of the latest gear and more.